We have been pitching a large corporate client on our marketing services for a while now, and and after putting a ton of time into a killer Powerpoint deck, they suddenly want to disseminate it to their staff before signing our contract. I'm not too sure about this, and am thinking that instead of just sending them the preso we could send them a secure PDF, ideally one that would prohibit them copying any data out or printing the content. Is that doable, and if so, how do we get our iMac to do it?
Hmmm… that is a bit odd, now that you mention it. If you're pitching a client on your services, there's little reason why they would want to disseminate your pitch to the rest of the company unless it's some sort of üaut;ber-egalitarian firm, and few really are, once you look closely. I think you're right to be a bit curious and to take some steps to control how widely that information can be disseminated.
As you know, Adobe's PDF documents are a great choice, and give you lots of control over what the recipient can do with the information in a way that's portable across both the Mac and Windows. Heck, even the nerds in IT can read it even though they're running Linux-based netbooks. 🙂
To get a PDF from Microsoft PowerPoint, however, is a bit of a trick because while PowerPoint can save your presentation in a lot of different formats, as you can see here:


what it can't do is save your presentation as a PDF. That's kinda dumb, but I am guessing that it's a technology licensing issue more than anything else.
Instead you need to use the
print to PDF
feature of Mac OS X that's one of its killer capabilities. And it's easy too… just choose "File" –> "Print":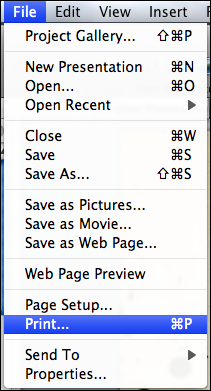 Once you get to the print dialog window, however, don't choose "Okay" but instead click on the "PDF" button on the lower left corner: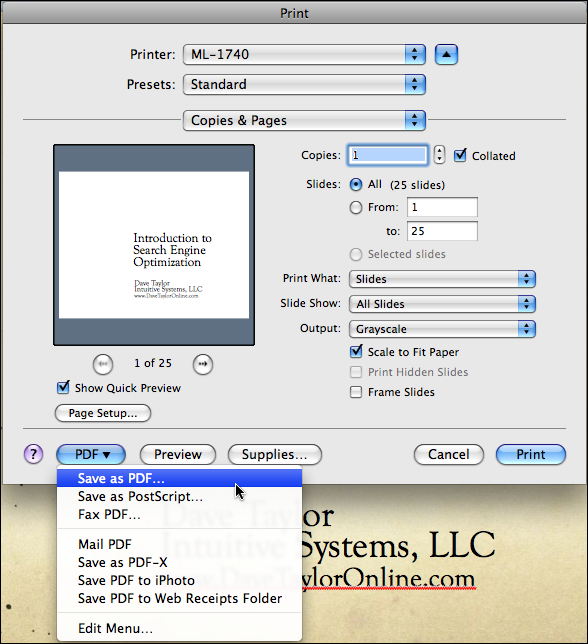 As you can see, there are lots of interesting things you can do here, but we'll just choose "Save As PDF…", which brings us here: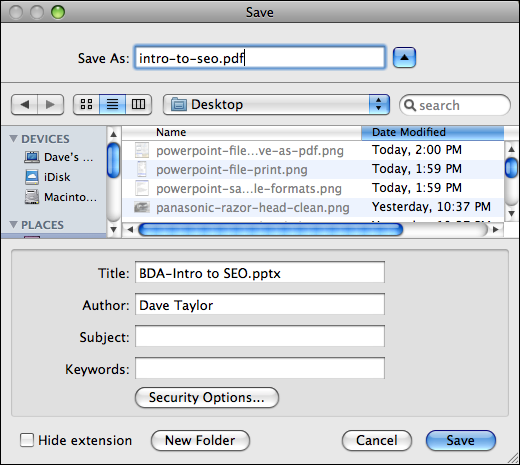 If you just want to send a regular PDF without any constraints, this is far enough: give it a good name, click "Save" and you're done.
Since you want to add some security features, however, click on "Security Options":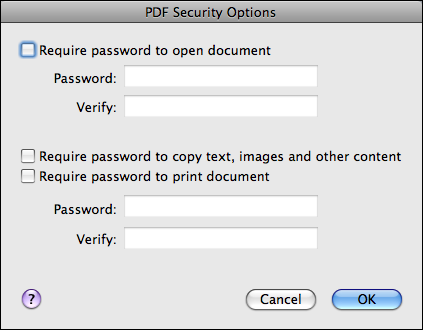 For the document I was saving as I did this process, I didn't want to have a password to prevent it being opened, but instead one that made it difficult to copy or print, just as you seek. Here's how I configured that: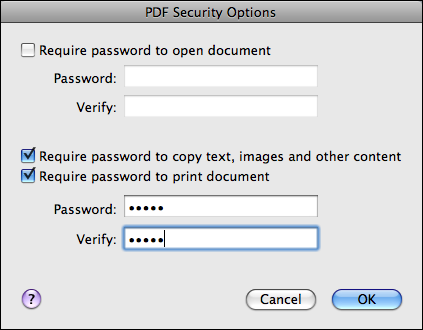 Finally, at this point, I clicked on "OK" then "Save" on the print window that I returned to, and got to watch PowerPoint work on the problem…


Not more than a few seconds later I'm done and the document is created and ready to disseminate.
To test it, I opened it up in Preview and tried to print it:



Exactly as I would hope, and exactly what you need too.
Good luck with that client, too!