I'm in one of those most annoying hotels where they charge by the laptop, rather than by the room, and my buddy and I are aren't very happy paying $25/day for Internet! Isn't there some way we can use one of our Macs to share the connection?
Yeah, it's amazing to me that all hotels don't just give you free Internet access as part of your room charge, but too many of 'em are run by accountants rather than people focused on the customer experience. I can't tell you the number of times I've spent more in a month on hotel Internet than on my high-speed connection in my office!
However, I suppose it's their hotel, not ours, so they get to pick their policies. That doesn't preclude us from having a bit of hacking fun and trying to circumvent things, does it?
What I really like are little wifi base unit gizmos like the Apple Airport Express or similar. For $99 it's a tiny little device that does just what you want.
If all you have are laptops, there's another cool solution, one that's super easy to set up on a Mac and super hard to set up – in my experience – on a PC: Set up a computer-to-computer network so that your computer becomes a wifi base station!
The wrinkle: the device that's going to act as a base station and let other computers piggy-back on the Internet connection has to be hard-wired into the network. That is, you can't connect to the hotel wireless via wifi and also serve as a base unit. If you have an Ethernet option and the right wire in your room, however, here's how you proceed…
The easiest way is to click on the wifi icon on your computer and choose "Create Network…":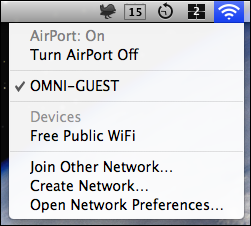 The system them asks you to name your network. I suggest something memorable (I often have fun and name it things like "Hackers Rule" or similar, to freak out other hotel guests, but that's another story):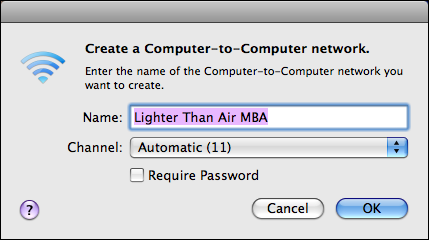 Check "Require Password" and enter a password: you don't *have* to do this but since anyone who connects can see the public material on your own computer, I strongly encourage even a rudimentary password.


Now you need to go and turn on Internet sharing. This is done by going to Apple –> System Preferences… –> Sharing, which looks like this: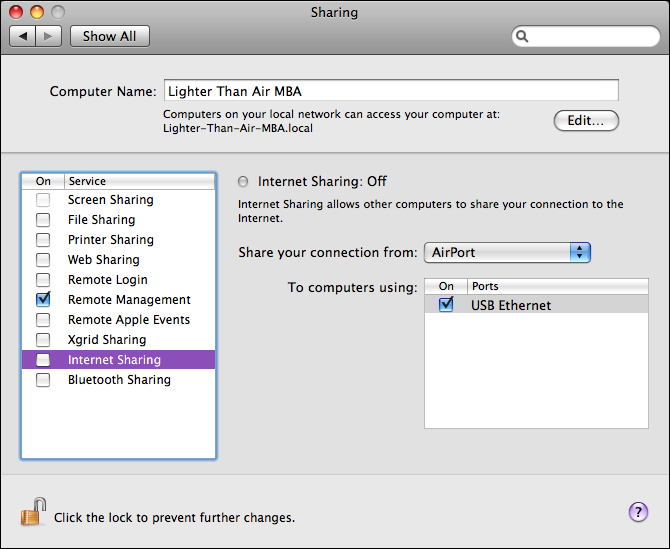 and clicking on "Internet Sharing". When you do, it'll warn you: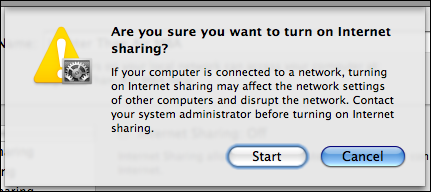 It's all good. Choose "Start" and close that window.
Now your network should be up and running.

Part Two: Joining a Computer to Computer Network

Now let me show you real quickly what it looks like when you join a computer-to-computer network. In this case, the network is called "darbo". First, I click on the "airport icon on the menu bar and see my choices, including this one under "Devices":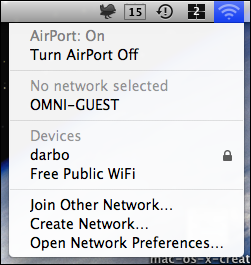 Choose it, and like any other network you'd join that has a password, Mac OS X prompts you to enter the correct network password here: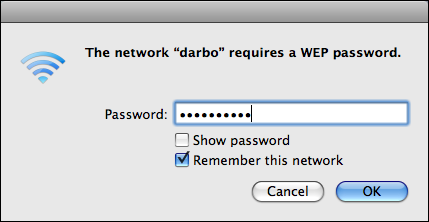 Once you've done so, you're in! Now when you look at the airport menu, you'll see the Device network selected:


Notice the "Disconnect from darbo" option: that's the clean way to disconnect when you're done, but I'm sure you can just close your laptop and everything'll be fine.
With a little bit of practice, you'll find that you can set up impromptu wireless networks in just a minute or two, and if you're saving $10-15/day by doing so, well, that's well worth the effort.