I got a very nice card from my grandma that included $10 "to buy some music for my new apple phone". It wasn't a gift card, though, so I figured I'd just buy the music directly in the iTunes Store on my iPhone and drop the $10 in the bank. Did it, but now I'm baffled: how do I copy that purchased music onto my MacBook Pro laptop? Do I need to download it again from the iTunes Store, or can iTunes just pull it from the phone?
What a nice grandma you have, very cool knowing that everyone who has an iPhone also seems to have an insatiable desire to fill it up with stuff, be it music, movies, podcasts, photos or apps. Me? I have a ton of everything on my iPhone, it's a 16GB and it always runs at about 97% capacity.
What would have been even a bit cooler would have been if grandma had purchased an iTunes gift card, though maybe not: those can't be redeemed directly on your iPhone (see how to redeem an iTunes Store gift card) so you'd have had to buy the music on your computer then transfer it onto the phone.
Then again, that'd sidestep your question, so… 🙂
Phew. Okay, now, let's look at the situation you actually have instead of the situation you could have had, and keep thinking great thoughts about grandma, okay?
To start out, go on your phone and start up the "iTunes" app. You'll see something like this: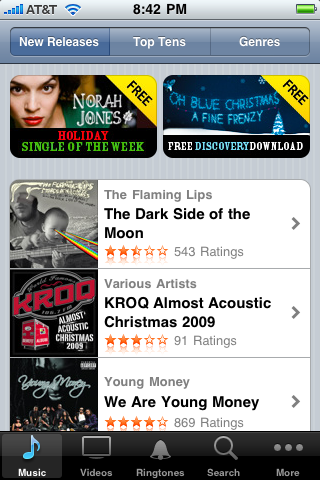 Nice, festive, but how do you find what you've already purchased and downloaded? The answer, the "More…" link on the bottom right. Tap on that and you'll see a list of options including Podcasts, Audiobooks, iTunes U and, the most important one for what we're doing: Downloads. Tap on it and you'll see…
Blank. Hmmm… where are those downloads? Tap on "Purchased" in the top right corner and you'll find out: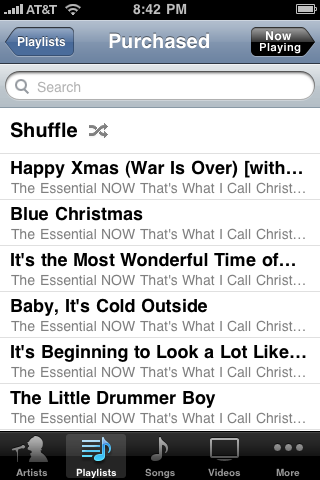 That confirms that, indeed, we have purchased and downloaded the songs we want. Now, how to get it to our computer?
It's surprisingly easy. Plug in your phone and click on the "Sync" button. It'll start out saying:
Wait for it… wait for it…. and voila!

That's it. iTunes is smart enough that when you sync a phone to a computer it'll automatically copy the music onto the computer from the phone.
On the other hand, what would happen if you forgot or didn't trust that possibility?
Here's how that would look… first, find the same song or album you downloaded. In my case, it's Christmas music:
Nothing shows here that I have already purchased this album, which is a bit disconcerting. I'll proceed down the rosy path and buy the album again. Next thing I see is:
Yeah, yeah, sign in and it'll then warn you that you're about to buy the song/album:
Rather alarmingly now, it still doesn't say "hey, dude, you just bought this album a few hours ago: do you just want to download it again?" but I dutifully march along to see what happens by clicking on "Buy".
Finally, a prompt that suggests iTunes does know what's going on:
I click on "Cancel" as it suggests and then go to the appropriate menu:
It's really not quite right, though, because we've already downloaded the music onto our iPhone, so it's not a huge surprise when it reports the following:
Question is, where the heck is the download? Turns out, it's already in my music library, which I can confirm by searching for the album title in my library. Next thing I see in iTunes is: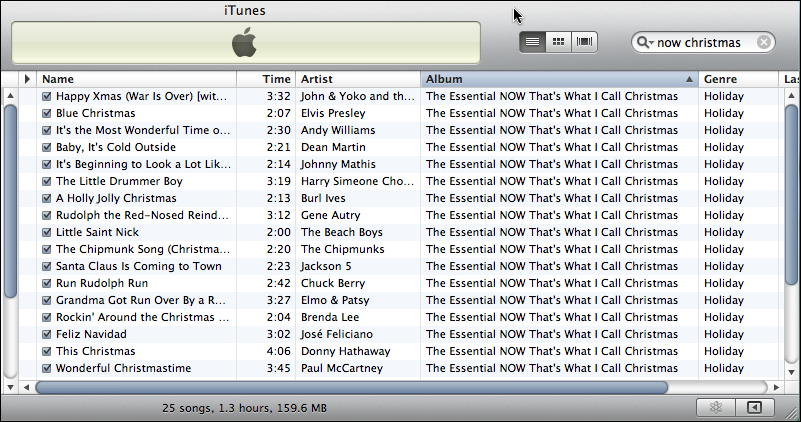 What I haven't yet figured out yet is how to download a purchase a second time, just in case something happens to the original purchase. It doesn't appear that's possible: I backed up the music, deleted it all, and wasn't ever prompted to re-download it, even though iTunes could compare purchases against actual downloaded tracks… perhaps one of you readers has a suggestion or tutorial?
Anyway, tell your grandma thanks for all of us, count your blessings for having such a cool grandparent, and enjoy the new music you have on both your Apple iPhone and your MacBook Pro.