I just got a Microsoft Surface RT running Windows 8 and, wow, it's really nice. Windows 8 is about a million times better on a touch screen than on a desktop or laptop computer with just a mouse. One thing I haven't figured out yet, however, is how to take a screen shot or screen capture on my MS Surface. Got any tips for me?
We've been testing out a Microsoft Surface too and I have to agree with you. It's the best non-iPad tablet I've tried in a long time and with the smart cover / keyboard combination, it's surprisingly versatile and capable, and with full Windows 8, there are quite a few apps that I never anticipated using on a tablet that work just fine. However, with the proliferation of tablet choices has also come a proliferation of tablet operating system choices, including the Kindle OS, Android, iOS for iPads and now Windows 8. And each does things differently, of course.
Making it more fun, we also have an Acer Windows 8 tablet and for some reason the standard way of taking screenshots on tablets just doesn't work on their devices. How they can have tweaked it to not work is a bit beyond my explanation — not to mention why they'd do that — but let's stick with the MS Surface RT and we'll wait to hear back from Acer on what's going on with their devices.
On the Surface, and any other Win8 tablet, you can take a screen capture by simultaneously pressing the Windows button on the front of the screen and the volume down button on the edge. This, of course, takes some skill and is frustrating as heck to get working, but…
To clarify, here's the Windows button on the front of the device:



And, on the side, here's the volume control:


Push them at the same time and you can get screen shots that are then saved in "Pictures" within a folder helpfully called "Screenshots". Here's a typical screenshot: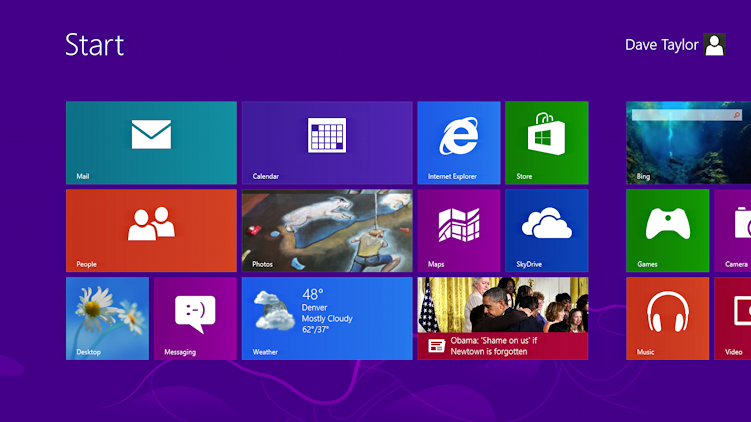 This is what's called the "Metro" portion of Windows 8 and a number of sites online suggest that you cannot take screenshots while you're in this area of Windows 8. Clearly that's incorrect. 🙂
In fact, you can grab a screenshot just about anywhere, including in Bing Daily, one of my favorite Windows 8 apps…


Finally, as you can see in this last screencapture, to transfer the photos from the Microsoft Surface RT to my main system, I used Gmail, and when I tapped on "attachment", the file selection window shows how things are organized and named:


That should get you started and in terms of the flexibility needed for simultaneously pressing Windows + Volume Down, I imagine that practice makes perfect. As you'll see, the screen dims for a moment to give you visual feedback that the screenshot was captured and saved, so you can look for that as you learn the sequence.