I can see that there some sort of song tagging capability in the FM radio portion of my new Apple iPod Nano 5G device, but for the life of me, I can't figure it out, and the micro-documentation from Apple doesn't shed any light. Dave, how the heck does this work?
First off, I suggest you start by reading my earlier piece on the basics of working with the FM capabilities of the Apple iPod Nano 3G, which you can find here: FM radio on Apple iPod Nano help.
Back? Great. Now, let's talk about this specific feature of the FM radio on the Nano, because it took me rather a while to figure out too. The key issue is that the channel you're listening to needs to be sending out track information and that your reception has to be clear enough that you see the information.
When you've got those, you'll be listening to the radio and see the track information show up: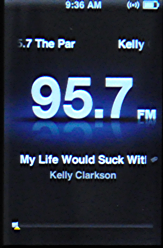 By itself that's pretty cool, because radio has for too long been a frustrating listening experience, as you'd hear something you liked and never been able to identify it so you could buy the song later.
But where this really gets cool is if you tap and hold the center button while that information is displayed…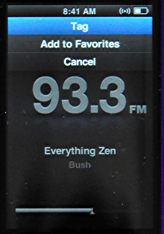 Choose "Tag" and it'll add it to the tagged songs list you have:
If you forget, there's a rolling list of recent songs you can reach too, by going to the main Radio menu and choosing "Recent Songs". It'll look like this:
(yes, the song names keep changing in these screen photos. I had a hard time capturing sequences, so my apologies for any confusion. Assume it all works as you would expect and we'll be fine. 🙂
Later, when you plug in your iPod Nano 5g to sync it with iTunes, a new option will appear on the left side under "Store" called "Tagged". Choose it and you'll see the songs you've tagged, conveniently available to preview and purchase from the iTunes Store if you so decide:

Super cool!