Help! I accidentally pressed the Latino MySpace button and changed my MySpace to Spanish! Now I can't change it back to English. Can you please help me change it back to English mode? Gracias!
I have a practice of not making fun of people who send in questions, but tu vida en línea es muy difícil, si? 🙂
Anyway, it's not obvious how to switch, but it turns out that MySpace supports quite a few different languages, though it's buried in the timezone setting, of all things. Let's do this in English first, then we'll do it again in Español tambien.
In English, if you're in classic view on MySpace, click on ""Account Settings", then you'll see this: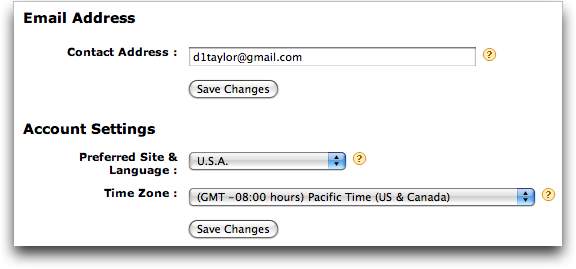 You can see here this is where you tweak your email account settings, but what we want to examine is the "Preferred Site and Language". You'll notice it is "U.S.A." Want to have it in Spanish? Choose "U.S.A. (Spanish)". German? Try "Germany". Italian? "Italy", and so on. Pick which you'd prefer and click on "Save Changes".
Now, in Spanish, assuming you're still in "classic" view, you'll want to look closely at the different options adjacent to your photo on the left: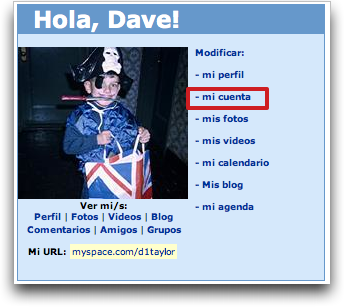 You want to click on "mi cuenta" (which translates literally to "my mind", oddly enough), which takes you here: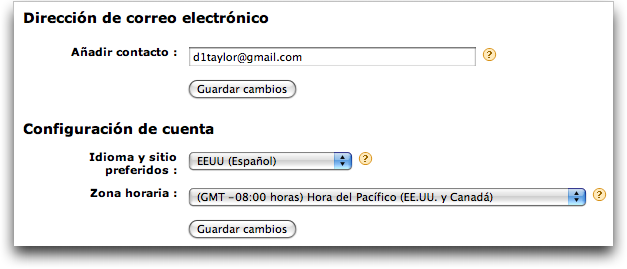 The field you want to change is labelled "Idioma y sitio preferidos" (language and site preferences). The default for Spanish is "EEUU (Español)" where "EEUU" is the United States (literally Los Estados Unidos). Change this to just plain "EEUU" and click on the button labelled "Guardar cambios" and you should be back to English after you next click on anything. Try clicking on "Inicio" in the top left: it'll take you back to your Home view on MySpace.
If you aren't in Classic view but are instead using one of the fancy skins that MySpace offers, you'll have a control panel like this: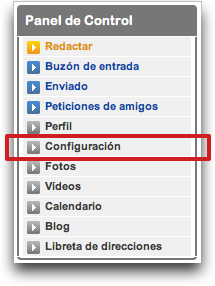 In this case click on "Configuración" and you'll be able to pick up the steps from there!
Don't forget, I have lots and lots of
MySpace help
and, I suppose,
MySpace Ayuda
too 🙂