I read your earlier article on How to subscribe to a podcast in iTunes but am not entirely clear how to get those podcast episodes onto my iPhone automatically. How do I subscribe to a podcast on my iPhone?
It's always delightful to have people actually want to hear the podcasts that I'm involved with, so thanks mucho for the question! I co-host two tech discussion podcasts, in case you're coming into this new: Boulder Open Podcast [iTunes link], which is a 5-10 minute weekly chat between Michael Sitarzewski and myself, and the longer, more in-depth Three Insight [iTunes link] where Michael and I add PR pro Doyle Albee to the mix. If we had Doyle as a guest on B.O.P. that'd cause massive confusion, so we've never done that. Yet. 🙂
To subscribe to a podcast on your iPhone you can actually do so directly by starting with the iTunes app (go to More –> Podcasts and search for us), but if you were following along on my earlier tutorial on how to subscribe to a podcast in iTunes 10, you've already got the episodes downloading onto your computer.
The trick is to ensure that the episodes copy onto your iPhone when you sync. Easily done!
Plug in your phone, then look closely at the options along the top:

See "Podcasts"? Click on it.
As you can see, I haven't chosen to sync any podcasts. Not good. To do so, all I need to do is click on the checkbox next to "Sync Podcasts" and you'll see all the default settings are exactly what you want:
That's all there is to it. Next time you sync up your phone you'll find that you have a podcast waiting to listen. To find it, tap on the "iPod" app then tap on "More" on the lower right corner: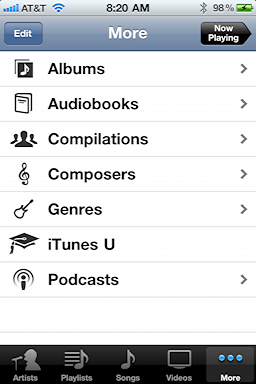 Now tap on "Podcasts" and you'll see my Boulder Open Podcast queued up to listen:
Tap the show icon and you'll see the episode name too:
Oh, and you can review our back episodes easily by tapping on "Get More Episodes…" on the iPhone: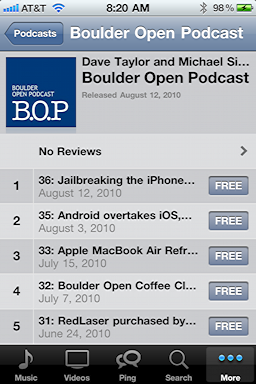 So there ya go. Hope that's helpful, and thanks for listening!