I've signed up for Twitter and am having lots of fun with it, but every time I add someone new, all of their Tweets end up going to my cellphone as SMS text messages. This is bad, and it's driving me crazy. Is there some easy way to fix this?
First off, you want to go into Twitter and make sure that you have it configured to give you web-only updates by default when you follow new people. This is easily done: on the right side of your Twitter home page you'll see this: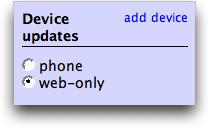 As I have done, you want to ensure that "web-only" is checked.
Now, in terms of cleaning up the people you are already following via mobile, you can simply go to each of their Twitter pages and disable the feature. For example, if I followed
@CoachDeb
and had her messages being sent to my cellphone, it'd look like this on her profile page:
If I click on the gray box a new window opens up immediately below:
and, as you might expect, clicking on "off" disables the SMS notifications for this particular user.
Now, if you have just one or two people, this works just fine, but if you've added a few dozen people to your Twitter following list, you can either send
off
to turn everything off at once, or, what I suggest instead, go to your "Settings" on your Twitter account then click on "Phone & IM" and you'll see the following:
Switch it from "On" to "Direct Messages" and you'll only get direct messages sent to you by other Twitter users (e.g. "d
handle
"). Or choose "Off" and you'll never be bothered by twitter messages again.
Oh, and if you would like to follow me on Twitter, you can find me here:
Dave on Twitter
.