Not to sound too antisocial, but the new chat feature on Facebook is driving me a bit wacky. Every time I'm on Facebook now, people are bugging me. Is there some way to turn it off?
I have to agree with you that I haven't seen any compelling reason why Facebook added chat, other than that it does keep people on their site for longer, making it "stickier", as they say in the biz. But there are already so many different discussion systems out there, from Twitter to Gtalk to the many IM services that it's hard to figure out why we as users would be interested.
Nonetheless, it does exist, and if you're like me, you might be surprised how many of your Facebook pals are online at any given moment.
Where do you find all this? On the lower right corner of your Facebook pages.
Here's what I mean:

See the little green dot adjacent to the tiny black person icon? That means I'm online. Click on that and you'll see:
The key field you want is here. Right next to "You are Online" it says "Go Offline". Click on that and your Facebook friends will forevermore think you're not available for chatting: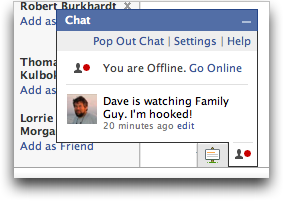 If you do decide you want to become available to Facebook chat pals again, simply click on "Go Online" and you're back!