I really like Aperture, but I have to say that it's pretty crazy slow when I start it up, often taking a few minutes before I can use it on my iMac. That can't be right, even with a lot of photos in the library. Are there any ways to speed Aperture up??
About a year ago I jumped from iPhoto to Aperture because iPhoto was running too slowly, and now I too am facing an issue with Aperture performance on my MacBook Pro. I have RAM, I have disk space, I just also have a boatload of photos. About 7500 of them to be exact, and that's after I split photo albums by year (which I really don't want to do, but I just accept that it can't handle 15,000+ photos).
I have talked with people at Apple and others to find out their secrets, and frankly, it's a puzzle. I have one friend who tells me that Aperture is snappy on his MacBook Air and others say that they switched to Adobe Lightroom specifically because Aperture was so darn slow.
Meanwhile, here's what I've done to try and speed things up…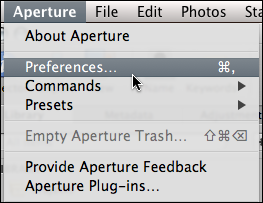 Everything happens in the Preferences, so your first step is to open that window in Aperture. Then under the "General" area, the first thing you'll want to disable: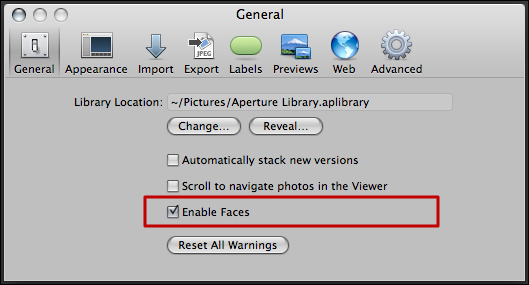 If you're not using facial recognition and the face gallery to organize your pictures, you definitely want to shut that off. Particularly when you import photos it can really slow things down by trying to figure out who everyone is in the incoming images.
Next, click on the "Advanced" gear icon…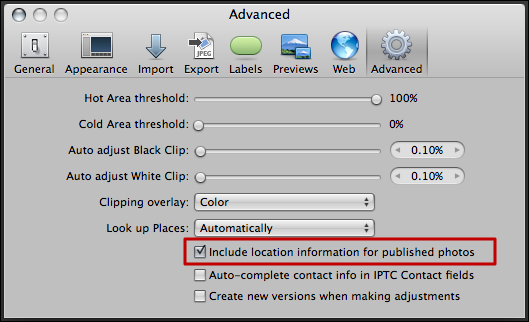 I don't know that this actually speeds up Aperture, but if you take photos and post them to Facebook, Flickr, etc, it's good to know that the EXIF info for many cameras now includes lat/long information that pinpoints the location exactly (particularly if you use a cellphone for photography). Do you want that detailed location information included in your online gallery? Something to think about.
Now click on the "Web" globe icon.
If you publish albums to any photo services, it's highly beneficial to turn off auto-sync: that's one of the main delays I find when starting up or quitting the app, Aperture checking each online photo album to make sure nothing's changed.
Worried that disabling this means you'll never be able to sync your photos online again? Not true! Just look on the left side where you have the per-service albums listed and you'll see a small wifi-like icon adjacent to the gallery name:

If you click on it, you'll force an auto-sync. Otherwise, auto is not auto any more.
One more way to speed up Aperture is simply to pull albums and photos out: less photos = faster application. Not how I want to solve the problem, personally, but I have learned that it's a good habit anyway.
What else? What are you doing, dear reader, to get your Aperture to load faster and be more responsive when you're working with your photo library?