I try to keep my PC's device drivers up-to-date, and regularly download updates from intel, nVidia, AMD, and others. Some of these updates come in .exe form, and must be run as programs to perform driver updates. Thing is, sometimes these roll-ups don't update everything they're supposed to. For example, on the latest intel infinst_autol.exe, it failed to update my PCI Bridge (244E) device and I couldn't figure out how to find the necessary .inf and .cat files to do the job myself. Any suggestions?
(To answer this question, I turned to my friend Ed Tittel, who had been working with Windows since 1993 and who has contributed to a bunch of different Windows related books too. Here's what he said…)
Part of the usual maintenance drill for Windows PCs is checking and updating device drivers. Whether you simply jump into Device Manager and eyeball driver dates, or use an automated tool such as DriverAgent, Driver Detective, RadarSync, or something else, you will occasionally find yourself in a pickle.
On the one hand, you're sure you've downloaded and run the latest chipset or driver update program and that it's run successfully to completion. On the other hand, your follow-up check on driver versions or dates shows that nothing has changed in some particular cases.
What does this mean?
Alas, it probably means that while some drivers probably did get updated, some also most certainly did not. This requires you to find the necessary directory on your hard disk where the driver update program unpacked its files prior to running itself against your system. Sometimes, this is incredibly straightforward and you can find the various .cat and.inf files where the drivers actually reside with ease. Sometimes, you can't find anything relevant at all.
In cases where you can't identify those driver files, a free software tool is likely to come in handy. It's called Universal Extractor aka UniExtract.exe. When you fire this program up, it doesn't look like much, but you will soon learn to appreciate its beauty and majesty.
UniExtract can open and extract files from any installer script (.msi), executable file, or compressed archve.


In my experience, Intel driver .exe files are particularly prone to this type of behavior. Until recently, I'd tried several times to update my Intel 82801 PCI Bridge (244E) without success. Using the Universal Extractor, I finished this process in less than 5 minutes.
Here's how:
1. Use UniExtract.exe to open the driver installer/.exe file (in this example, it's named infinst_autol.exe)
2. Instruct the program to write its extracts to a destination directory you normally don?t use for drivers (a UFD is perfect, or a drive you seldom use except for backups and images, or whatever)
Select the installer, exe file, or archive as the extract source, and designate an "unusual" target for extracts created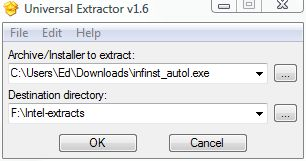 3. Open Device Manager, then right-click the device whose driver you wish to update, and select Update Driver Software from the resulting pop-up menu.
Right click the device whose driver you want to update, and select Update from the pop-up menu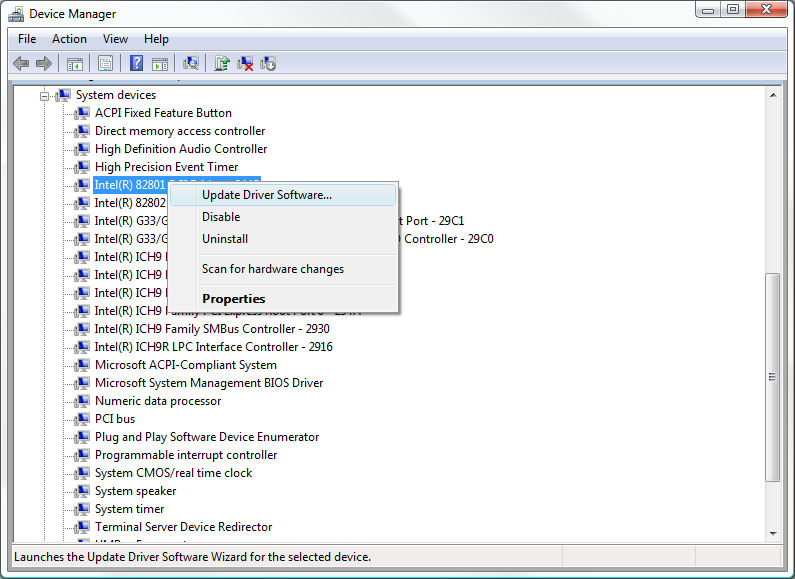 4. Select "Browse my computer for driver software" in the next Update Driver Software screen that appears.
Select the lower entry here ("Browse my computer?")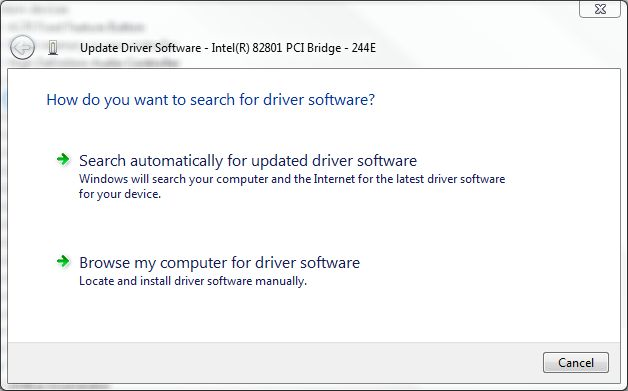 5. Click the Browse button, and then select the directory where you told UniExtract to deposit its extract files.
Browse your file system to choose the directory where UniExtract placed its extract files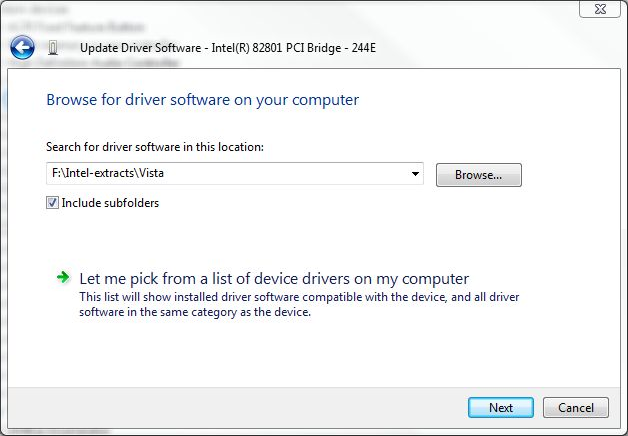 6. If you've chosen a driver that's newer than the one currently installed, Windows will cheerfully install it for you at this point. If not, you may see a screen that looks like this one: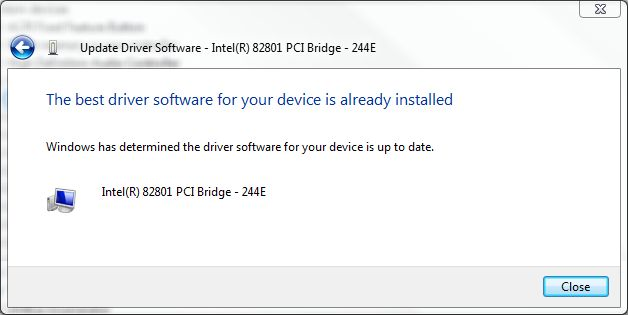 If that's the case, you know that the driver you already have installed is as new as, or newer than, the one you're trying to use for your updates. In most cases, however, if you've done your homework and identified and obtained a newer driver you should see a screen that looks like this one instead: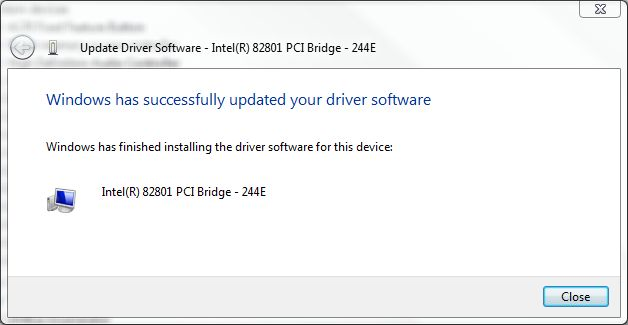 This technique works very well with drivers that come in groups, such as those for System devices and USB controllers. It's helped me update numerous Intel drivers when no other technique would work; it should help you, too.
---
Ed Tittel is a fulltime freelance writer and trainer who's been working with computers since the early 1980s. He's contributed to over 140 computer books, and writes regularly for sites like Tom's Hardware, TechTarget.com, DigitalLanding.com, and for lots of corporate clients. Ed blogs on
IT career topics
and
Enterprise Windows Vista
three times a week for TechTarget. Find out more about Ed at
EdTittel.com
.