A buddy just showed me on his Sony PSP Slim that he can get to a network where you can watch movies, download games, and all sorts of cool stuff. He says it's the "PlayStation Network" and I want it! How do I get it on my PlayStation Portable, because when I look on the main menu it just ain't there.
There was a major PSP operating system firmware release from Sony a while back that added a ton of new features, including the entire Sony PlayStation Network. Most recently, this has been pushed out to include movies, movie preview trailers, TV shows, and a bunch of other stuff that let's us know that the Sony people are definitely paying attention to what's going on at Apple with its super-successful iTunes Store 🙂
What you'll need to do first is upgrade your PSP firmware, therefore, which can be done pretty easily. First off, if you're so inclined, you can check what version of the PSP firmware you have, then, if necessary, update your PSP.
Still with me? Good. Now here's the trick… once you've upgrade, you'll now have the following as one of the many, many options on the navigational system that Sony calls the "XrossMediaBar" or XMB or, for us humans, the cross media bar, the PlayStation Network: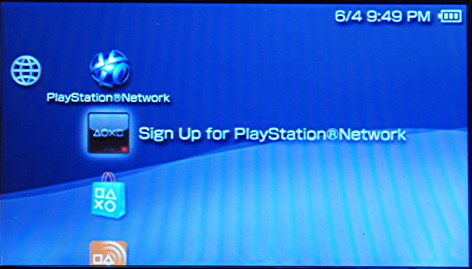 Since you haven't signed up yet, you'll want to choose "Sign up for the PlayStation Network" (or save yourself a LOT of tedious PSP data entry by
going directly to the PlayStation Network on your computer and signing up
. I'll assume here that you do want to stick with the PSP, however).
Your Sony PSP will need to connect to a wifi network so it can get to the Internet: in this case I am using a network called "Aerie" but yours will differ. If you don't have any networks in range, you'll need to move and find one, perhaps at your public library, a local cafe, or at a friend's house. That's a must.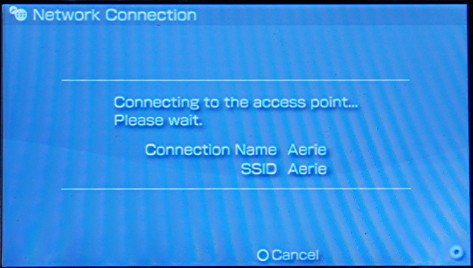 Once it connects it will show you a cheery PlayStation Network home screen with only one important option: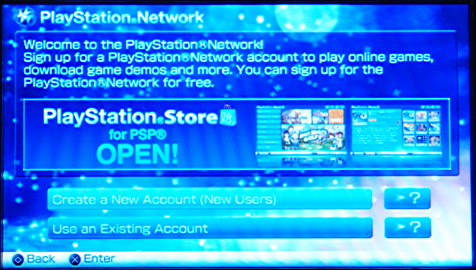 The important option is "Create a New Account (New Users), as I highlight above. I choose entries with the "X" button and go to the next page: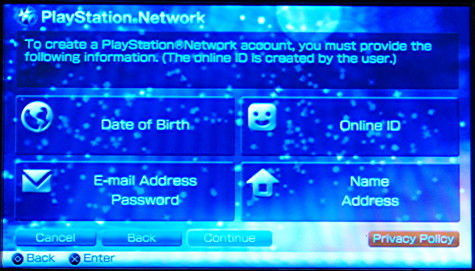 As you can see, Sony wants a lot of information from you to set up an account, including your birthday, mailing address, an email address, etc. Ready to start? Click on "Continue" along the bottom…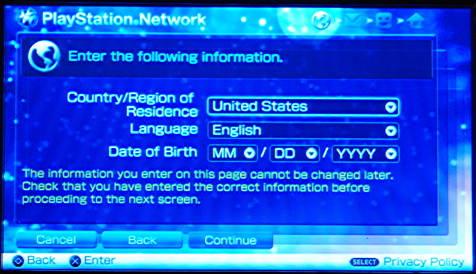 First step is to specify your date of birth and country within which you live. I picked United States and entered my own birthday here.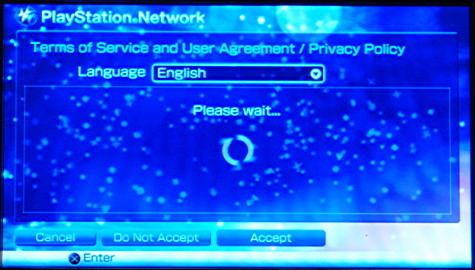 The Sony PSP uploads that data to the server then asks for more information: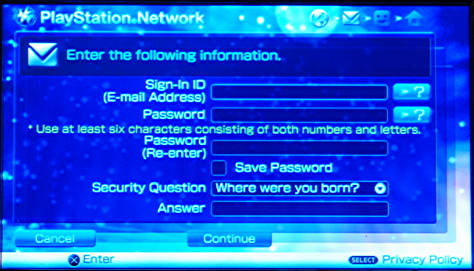 I have to warn you, I found it a pain to set up a sign-in ID that the PlayStation Network liked, as you'll see shortly. Nonetheless, as you've already learned along the way, your data input screen always looks like this:


Tedious, but manageable (though I still suggest you just enter all the data on a Web browser on a computer with a keyboard to save your sanity, but that's another story).
I specified my Google Gmail address for my own email addr:


And after entering all the other data, thought I'd be able to proceed: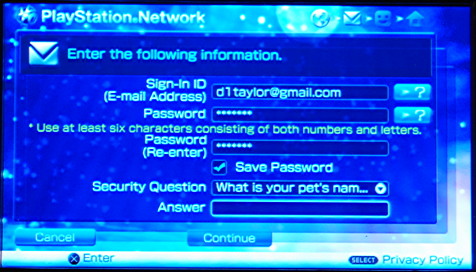 But, surprise, it didn't quite think so:


I had to back up and choose a non-Gmail account. This suggests to me that you also can't use a Yahoo.com, MSN.com or AOL.com address too, and I'm really not sure why, but presumably Sony has its reasons.
I finally entered an email address it could handle and then picked an online ID that I use on many sites: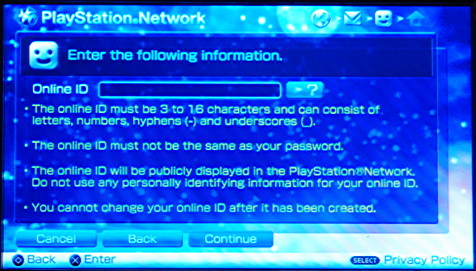 Nothing unreasonable and I paid attention to 3-16 characters and can contain digits, dashes, underscores etc, when I specified "d1taylor" as my requested signin ID. Unfortunately, the PlayStation Network had other ideas: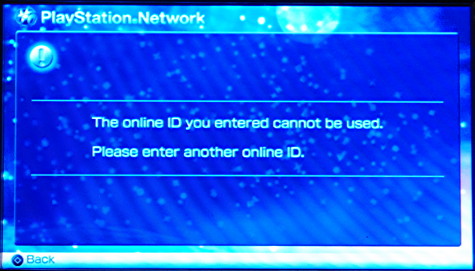 After going around and around with the network signup process (tediously as i was entering data on the PSP each time), I finally just tried adding a couple of dashes to my login ID and *poof* instantly it worked just fine: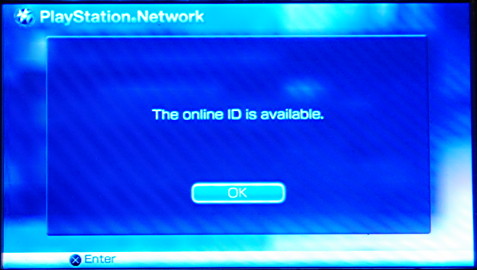 Finally!
A quick confirmation that, yes, that's what I want (even though it wasn't, but that's another story):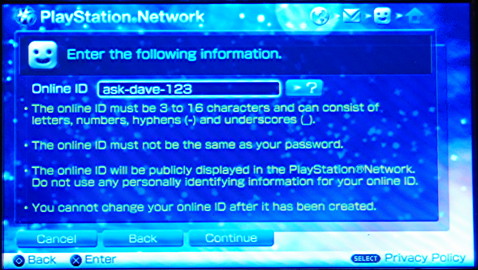 Accepted and on to the next data fields: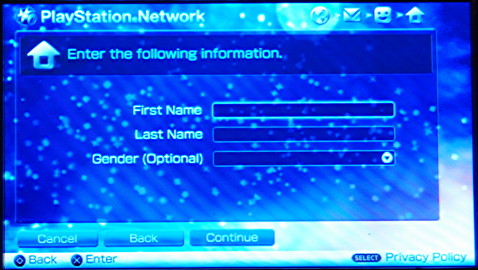 But, wait! They want more personal information: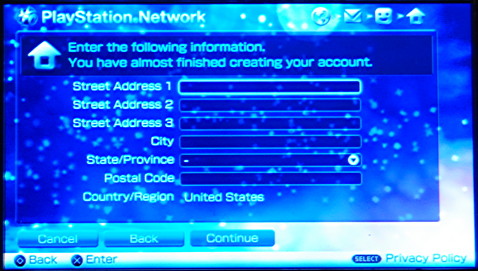 They're not quite done. Since you've supplied an email address, Sony also wants to know if it can send you endless streams of advertisements for its other services and products: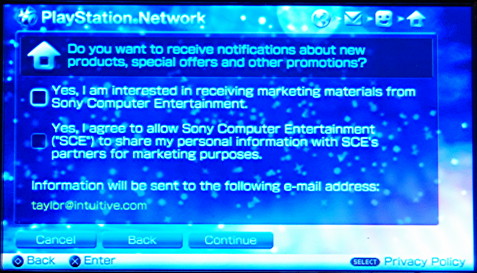 I opted not to receive any of this stuff. You might want to get email from Sony: if so, you can see how to opt in.
Confirm that the information you've entered is correct: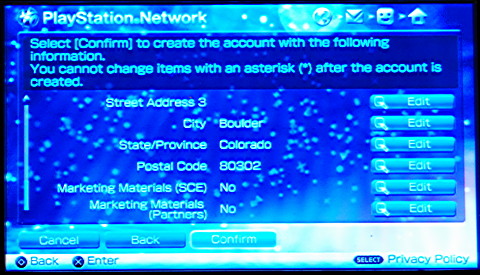 and…


Congratulations indeed! Tedious, but done. Nice job!
There's more you can tweak and customize if you so desire, starting with your avatar: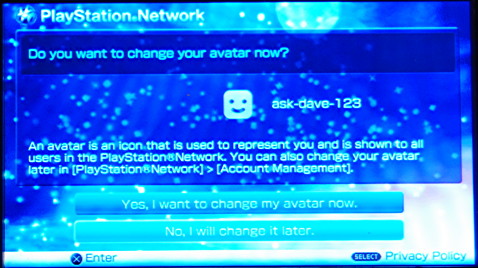 Personally, I didn't, because by this point I was getting sick of Sony PSP data entry. Choose "No, I will change it later" and:


Looks good!
I then immediately signed in to the network to ensure that everything was properly set up: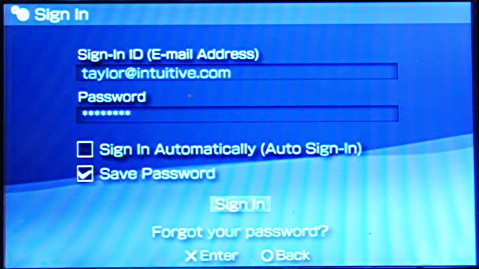 If other people ever borrow or play with your PSP, you might not want to have it automatically log in and remember your password, otherwise I suggest it's fine and it'll make it a lot more fun in the future…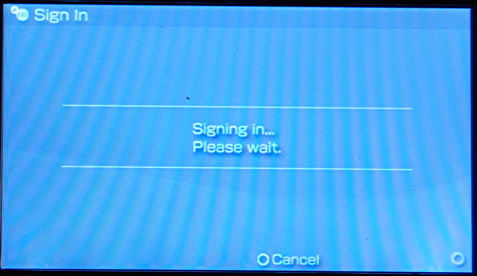 and…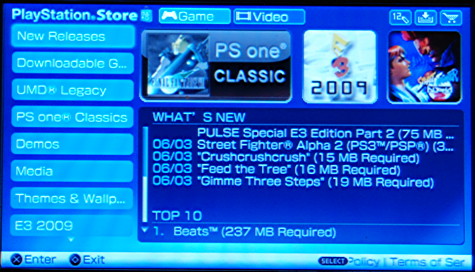 We're IN!