Now that I have an iMac and an Apple iPhone 3GS I am thinking I should also sign up for Apple's Mobile Me service so I can have wireless syncing and be just a bit safer in case I lose my phone too. How do I proceed?
First off, run, don't walk, back to the Apple Store and ask them to give you the discounted price on Mobile Me. If you buy it at the same time as an iPhone or Mac, you should be able to get it for $69 rather than $99, so that's worth a shot! In fact, even if you didn't buy it at Apple Store I'd still suggest that it's worth making your case, receipt in hand, and see what you can accomplish. $69 feel expensive? Really, that's about $5/month.
Why bother with Mobile Me? As Apple describes: "MobileMe automatically pushes new email, contacts, and calendar events to your iPhone, Mac, and PC. So your devices always stay in perfect sync."
When you buy a Mobile Me subscription at the Apple Store (or through another avenue) you'll end up with a box that has a CDROM inside (diagnostic software) and the all-important license code. The box looks like this:

To get started, you'll want to ensure that you have the latest and greatest software on your computer, which can be done from the Apple menu on the top left. Choose "Software Update…" and go through the steps needed to finally see "no updates available".
Then pop over to
me.com/activate
and here's what you'll see: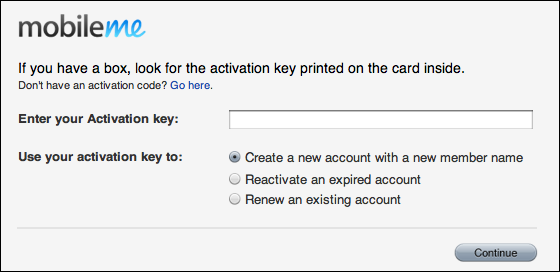 Your key is a bit tricky to enter, so be careful on data entry. Also, note that you'll want to select "Create a new account" as I have done above. Enter the data and click on "Continue". If it's working properly, your next screen will indicate you should enter your desired account information: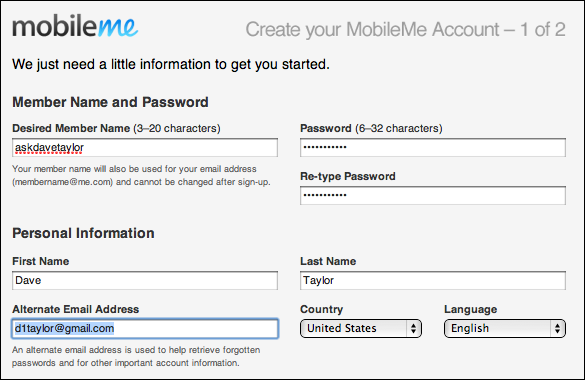 (the first time I tried to activate my own Mobile Me account, it took me to a login screen instead and I had to back up, re-enter my code and try a second time before I got to the right place. Might have been a quirk and bad digital karma, but if your screen doesn't look like what I'm showing above, you should try again)
Apple wants your physical mailing address too: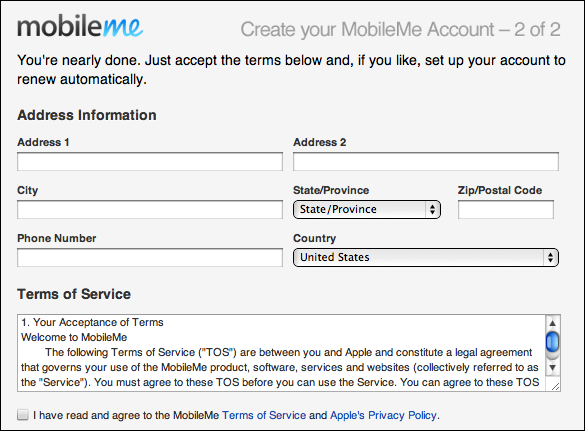 I'm not entirely sure why Apple wants my address, which is why I entered a post office box. Note that here again you'll need to accept a license that you, most likely, won't read. Me? I kinda sorta trust Apple so I just accepted the license.
Hopefully all works well on the back end and your next screen is:

That's all good. Now you have an account. But… now what?
Now you need to configure your iMac (or MacBook, or PC, or whatever). That's not immediately obvious, but your next stop is again off the Apple menu: go to "System Preferences…" and look for the "Mobile Me" icon:

Click on it and you'll — once — need to configure your system (and, more importantly, each of the many different computers you use where you might want to access your shared Mobile Me drive and sync features):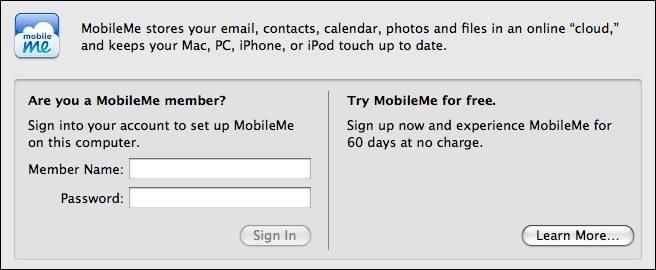 Enter your account and password properly and you'll suddenly see a summary of what you bought in the first place: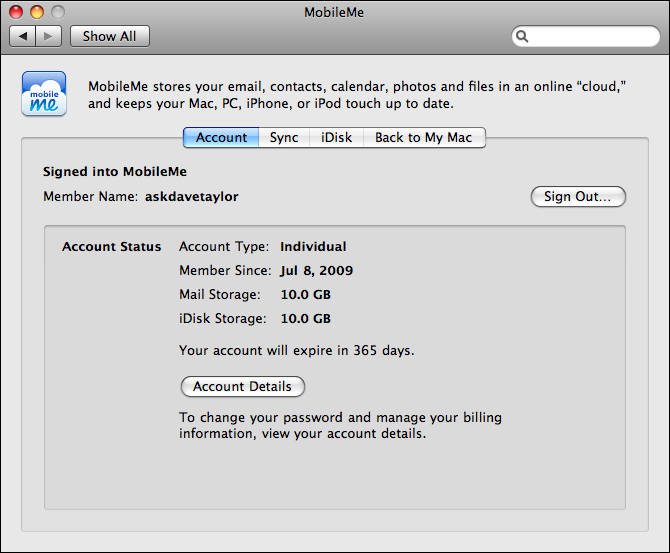 Notice the tabs along the top: Account, Sync, iDisk, Back to my Mac. Click on "Sync" first, as I believe that's one of the most valuable capabilities: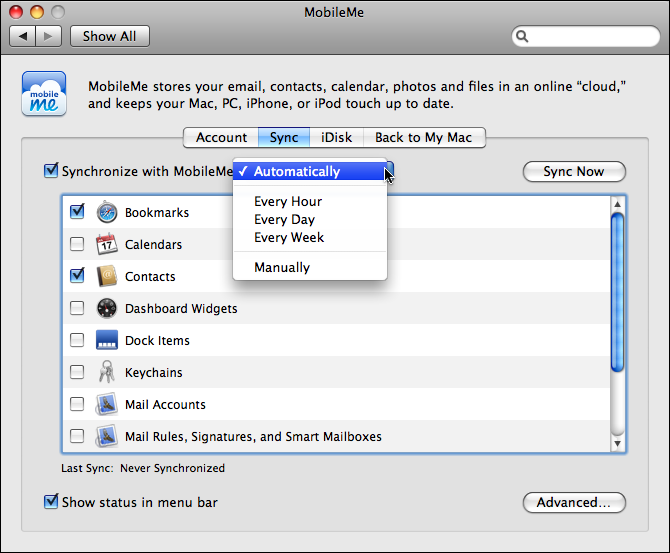 As you can see, there's a whole lot you can keep synchronized, depending on how much you rely on Apple tools. For me, I use Google Calendar, for example, so I don't need to sync my iCal calendar. Think carefully about how frequently you want the data synchronized too: I suggest as frequently as you're comfortable.
The other feature I'm a huge fan of with Mobile Me is the iDisk. Imagine, a hard drive that appears on your desktop but is part of the "Internet cloud": drop something onto it, then go to another computer where you've configured Mobile Me and open the folder: the file's there!
To configure that, click on "iDisk":
The Public Folder is pretty cool too, if you find that you sometimes share files or photos with lots of friends. Instead of going through the hoops of Flickr, just drop them into your Public folder on your iDisk and they can grab them any time they want!
Finally, if you don't trust Apple to keep your data available forever, you might want to have your iDisk sync'd with a local copy on your computer. If you do select that option, make sure you don't select it on each of the computers you're going to set up with Mobile Me.
Finally, let's look at the last tab, Back To My Mac.
It's not some sort of retro 60's hippie thing and I'm pretty sure it's not an homage to the movie
Back To The Future
. Instead, it's a way you can access the files and data on one of your computers from another:
Truthfully, I haven't yet done much with Back to my Mac capabilities, so I can't speak much about this: perhaps if you, dear reader, are using this you can leave a comment explaining what you find so cool about it.
But where's the iDisk?
Now that you've configured your Mobile Me account, open up a Finder window and look on the left:
Turns out you need to go to your Finder Preferences…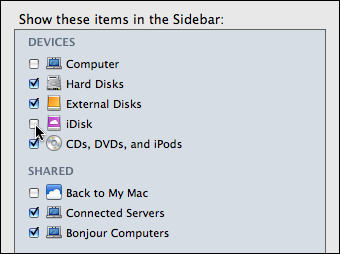 As you can see here, now that you have an iDisk account, click on the checkbox so that the iDisk shows up on the sidebar of your Finder windows and: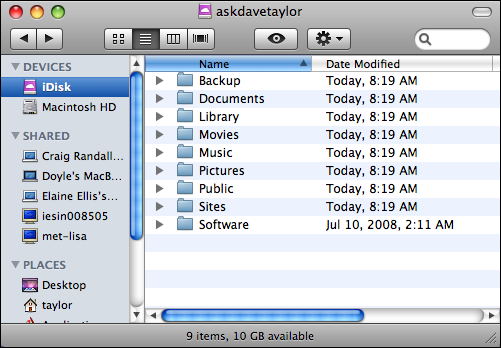 Notice how well it's organized. You can stick with this organization or just ignore it and drop things onto the drive. Remember that anything you drop in Public will be accessible to everyone on the Internet, so be aware of that one, at least.
Anyway, that should definitely get you started. Go set up Mobile Me on as many systems as you use and then start experimenting. There are a lot of interesting capabilities that you just gained access to by joining Mobile Me.