I took some photos with my digital camera and I want to e-mail them to friends or upload them to my Facebook, but the files are enormous, and uploading them takes forever! Can I make them smaller while still having the photos look the same?
A typical digital camera takes pictures with a file size of about 3 megabytes. This can
become inconvenient if you want to e-mail several pictures to a friend or upload a large
number of pictures to a photo sharing site like Facebook. Fortunately, it is possible
to shrink down the file size of the pictures without changing their appearance.
Confusingly, when you open one of these enormous picture files on Windows, it often opens
in a program that shrinks the picture down to fit your screen, which is convenient, but
conceals the fact of how large the picture really is.
When I open one of these 3 megabyte
pictures in Windows, for example, by default it opens in a program called Windows Picture and
Fax Viewer:
In order to shrink down the file size of the picture, you need to open it in a different
program called Paint. Right-click on the picture file, and on the right-click menu,
pick "Open With >", and on the sub-menu, pick "Paint" (the list of programs
that appears on your sub-menu will be different from the list below, but "Paint" should
be listed):
Whoa! When you open the photo in Paint, you may find that the picture is a lot larger than
you thought it was. In Paint, my friend's sleeve takes up more space on the screen than
was used to display the entire picture in Picture and Fax Viewer:
To shrink the picture down, go to the "Image" menu, and pick "Stretch/Skew…".
The Stretch and Skew dialog appears: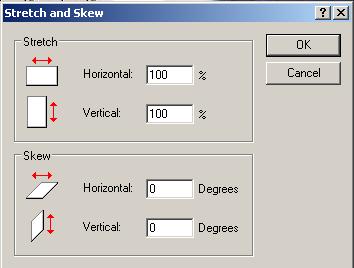 The default values for "Height" and "Width" are both 100%. If you leave these defaults and
click OK, then nothing will change (you've told Paint to leave the picture at 100% of its old
height and width). Replace both "100"s with "25" to shrink down the picture to 25% of its
old height and width — this is about the right amount of resizing necessary to shrink a
3-megabyte photo down to the standard size that will fit comfortably on a screen —
and click OK. Voila, the picture now appears at a manageable size: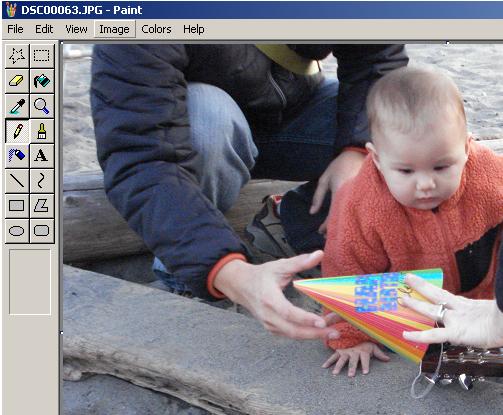 Now go to the "File" menu and pick "Save As" to save a copy of the picture in its reduced
form. (You'll probably want to save a copy, rather than overwriting the original file,
in case you ever decide you still need the larger original.) If the original
picture was about 3 megabytes, then the reduced photo size will be less than 100 kilobytes,
a much more manageable size to e-mail to friends and upload to photo sharing sites.
Bennett Haselton is a political and technology blogger whose specialty is helping people
unblock MySpace along with other
blocked websites at school, work, and other places where Internet access is censored!