I just got a new Apple MacBook Pro and am totally excited about it. As a member of AMPAS, however, I watch lots of "screener" DVDs and commercial DVDs and before I launch the first one, how do I set the regional encoding properly on the Mac?
Sweet! Nice to hear from someone who's part of the Academy of Motion Picture Arts and Sciences, the group that sponsors the Oscars! If you have some spare screeners, send 'em along to our offices, eh? 🙂
In terms of your concern about the region coding on your MacBook Pro DVD player, you're right to be aware of it: while you can change it from one region to another, you can only do so a half-dozen times, and then you're stuck with whatever region you last selected.
On the other hand, Apple makes it really easy within Mac OS X to set things correctly. In fact, the very first time you insert a DVD you should see this: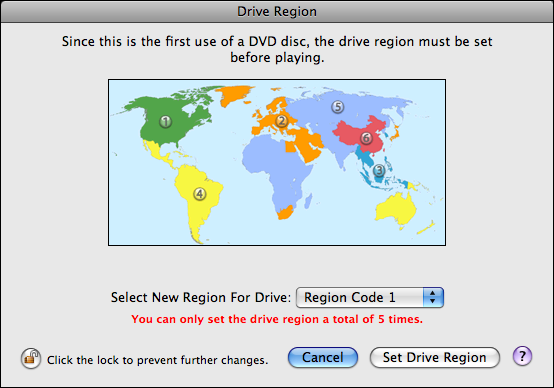 Select the right region (I'm guessing North America, region #1) and click on "Set Drive Region", and …



Done!
Now I have to say one thing puzzles me: aren't screeners region-free? I know that they have various steganographic and other methods of tracking per-disc to prevent illegal uploads, but are they also region encoded? If not, that half of your query isn't a big deal anyway.