How do I set an automatic reply message in Hotmail, so that when
people e-mail me, they'll receive an auto-reply telling them that
I'm out of the office?
If you have a hotmail.com, msn.com, or live.com e-mail address, and you
know that you won't be able to check your e-mail for a few days or longer,
you can set an automatic reply message for your account. That way, anybody
who sends you an e-mail will receive an automatic reply (usually in less than
a minute) with a message of your choosing, telling them that you're unavailable.
Early versions of auto-reply had several annoying features, such as the fact
that if one person e-mailed you several times in one day, the automatic responder
would send back the same auto-reply each time. Fortunately, Hotmail's auto-responder
will only send back one auto-reply per day, to each sender who contacts you.
To set an auto-reply for your Hotmail account, first sign in to Hotmail,
and then click "Options" in the upper-right corner, and beneath that click
"More Options":
On the page that comes up, under "Manage your account" click "Set automated
vacation replies":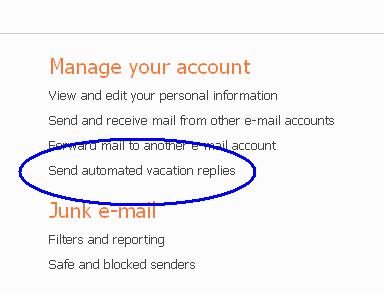 On the vacation reply setting page, change the option at the top from
"Don't send any vacation replies" to "Send vacation replies to people who
e-mail me":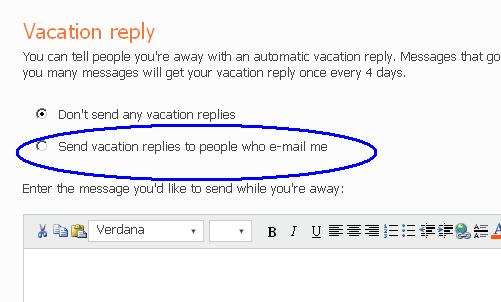 And in the space below those settings, type the automatic reply that you want to
send to people who send you e-mail.
(Unfortunately, as of this writing, Hotmail does not allow you to customize the
subject line of the auto-reply message — the auto-reply always goes out with
the subject line "Vacation Reply". This is obviously inconvenient if you might
want to set an auto-response for some reason other than being on vacation — say,
if you want to tell people "I'll be in and out of the office today so I might not
see your message right away" — but for the time being it's the only available
subject line.)
At the bottom of the page is a checkbox that is checked by default, labeled,
"Only reply to your contacts":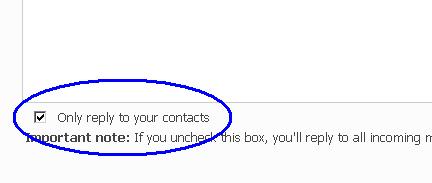 and underneath that checkbox, the confusing words,
"Important note:
If you uncheck this box, you'll reply to all incoming messages
which may make you more vulnerable to junk."
Hotmail doesn't say exactly what this means, but this is probably a reference to
the fact that some junk e-mailers (spammers) will send mail to millions of e-mail
addresses, look for anyone who replies to their messages, and then assume
those e-mail accounts are the ones most likely to be actively used, and so they'll
start sending more spam to those particular e-mail addresses. So you can avoid
this problem if you simply leave this box checked, in which case spammers who
send you e-mail will not get an auto-reply.
The problem is that if this box is not checked, Hotmail will only send auto-replies
to people who are in your Hotmail "contacts list", and there may be lots of people
with whom you correspond regularly, that are not part of your contacts list.
My advice is that if you don't get a lot of junk mail that makes it through Hotmail's
spam filter, and if it's important to you to send an automatic reply to any of your
friends or business partners or potential new customers who e-mail you, then you
can un-check this box.
(Messages that get caught by Hotmail's spam filter and go into your Junk folder, do
not trigger the auto-reply, even if you have set the auto-reply to go to everyone,
including people not in your contacts list.)
But if you're very concerned about spam, and it's not very
important to you to send an auto-reply to everyone who writes to you, you can leave
the box checked.
Finally, click the "Save" button in the bottom-right corner to save the changes
you just made: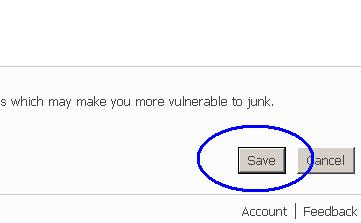 Turning auto-reply off
To turn off your auto-reply, follow the steps above, except that
when you come to the "Vacation reply" screen, change the option back
to "Don't send any vacation replies".
Bennett Haselton is a technology and political blogger who
will tell you how to
hack around the RM SafetyNet Internet filter in the UK if you feed
him a quarter (or, if you prefer, a sixpence).