Finally I have received a Google Wave invitation and am hooked up with what some people are saying is the Next Big Thing in online project management. I don't fully get it yet, but I do want to hook up a few colleagues and try it out. How do I invite others to Google Wave?
You are most definitely not alone in not fully understanding why Google Wave is such a big deal and at some level I can't help thinking that Google wants it that way. Think about it: it's a collaborative project management tool therefore it's only as useful as you having everyone on your project actually hooked into the system. If even one person isn't in the "Wave" then you can't use Google Wave and will drop into a different app or just do things the older, more inefficient way with more traditional tools.
The fundamental idea of Google Wave is really interesting, though, and the best analog I have come up with (I have a Google Wave account but haven't actively been involved with any Wave projects yet) is that it's like Microsoft Word's "track changes" document management utility on steroids.
If you've worked on a document with a group of people, enabling revision control lets you keep track of who changed what, and why (if they're disciplined: you can add little post-it style notes that become part of the revision history, but not part of the final document). It's terrific and critically useful for writing books nowadays too.
Problem is, it's hard to "unwind", so one of the great innovations of Google Wave is that you have a timeline a la iMovie and other video editing apps and can literally drag the slider along the timeline of the project's evolution and see what everything looked like at any point from the first day through until the present. Cool.
So, quickly, here's how you invite your friends and colleagues…
Look in your Google Wave inbox. You should see: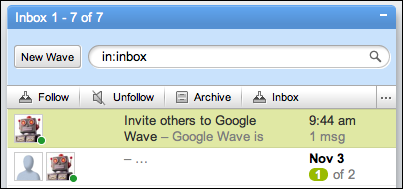 It took me a week or two before that message showed up, btw, so if you just signed up this morning, don't expect that to arrive promptly! Once you have it, though, click on the message and you'll see: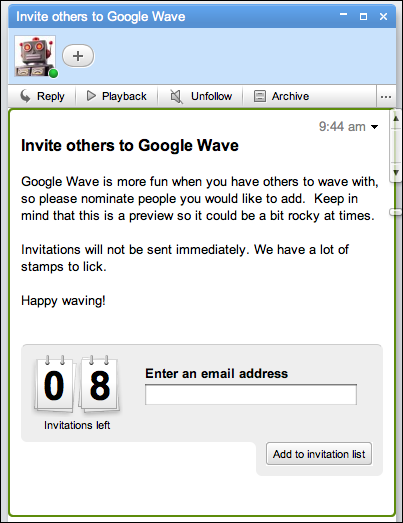 As you can see, I have a measly 8 invitations available. Not so many, and not very useful if I'm on a 10 person project. Nonetheless, let's step through the process.
Go down to the input box and enter the email address of a colleague:

I'm inviting Steve to Google Wave here. I enter his email address, click "Add to invitation list" and…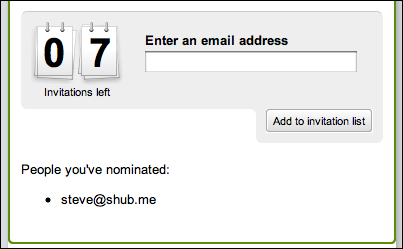 As I mentioned earlier, Steve will
not
instantly get a Google Wave invitation. For reasons that are not clear to me, Google is slowing down the invitation process with Wave and there's both a built-in delay on sending out invitations and a delay in when new Wave users can invite others. Combined it can mean weeks of waiting before you can actually try using Google Wave for a multi-person project. That, of course, is going to significantly slow its possible adoption in the tech community, but presumably Google knows what it's doing with this one.
Anyway, good luck with Google Wave. If you are using it for a project, I'd love to hear how it's working out too…