Now that I have built up a pretty good network on LinkedIn, I would like to send out a few quick questions now and then, soliciting feedback and input from the group. How do I do that on LinkedIn?
This is an interesting question because it gets to the heart of what I hear with some frequency: "what's the value of me having a network on LinkedIn — or any social network?" The answer is two-fold, because one great benefit of a large network, especially on a professionally-focused site like LinkedIn, is the ability to find a wide variety of skills and contacts within your network.
When I was planning the Aloha Summit a few months ago, for example, it was invaluable for me to be able to dig up catering managers at most of the top resorts in Hawaii and communicate with them directly, rather than going through the pedestrian filters of the "contact" form on the Hotel web site.
The other benefit, of course, is being able to communicate en masse with your circle of contacts, and that's unfortunately becoming harder and harder to accomplish. For example, on MySpace, it used to be easy to send a bulletin to your friends, however many you had, but now that's harder to do and the bulletin is far less visible to those friends so it's considerably less effective anyway.
On LinkedIn, the most effective way I have found to communicate with my network, at least, the best way to ask them a question, is to "Ask A Question", ingeniously enough. 🙂
Here's how you can do that too. Start out right on the home page:


The first part of the question form looks like a regular email entry form, with a title and body:


Below it, however, you are asked to categorize your question and identify some if its characteristics:


I'll be asking a question of my network about conference planning, so as you can see I have selected "Conferences and Event Planning" –> "Conference Venues".
Since LinkedIn members can automatically filter job requests, etc., the last section of the form asks that you indicate the nature of the query:


Now, even though there's an earlier check box labeled "Only share this question with connections I select", whatever you do you'll then be asked to select specific connections to receive the question from your address book, a maximum of 200 people: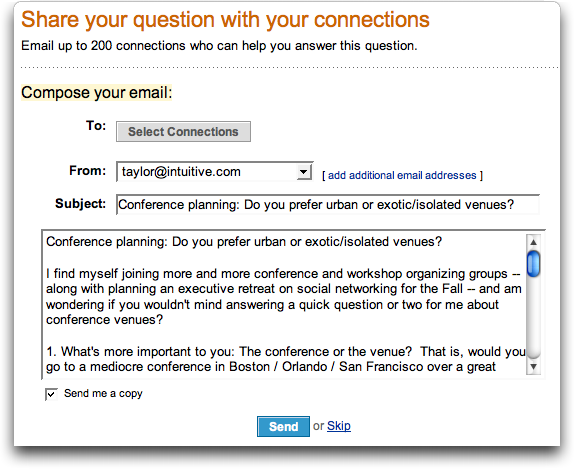 This process can be fairly tedious (particularly since the filters don't seem to work logically. I couldn't, for example, limit my question to just people in the same state I'm in) but here's what it looks like:


Notice the small checkbox above the letter "A" in that picture: if you check it, you'll automatically select everyone in that category (in this case, 16 of my 677 contacts). By doing this, I found it quite straightforward to send my question, in 200-per-query chunks, to everyone on my contact list.
Once you've built up your list, click on "Finished" (as shown above) and it'll be sent, as confirmed by the status message:


That's all there is to it. I would hasten to encourage you to not produce a veritable blizzard of pointless queries as you might well alienate your connections, which is definitely going to be counterproductive.
My results, by the way: Of 677 queries sent, I had over 100 responses within 12 hours. Very nice, and quite interesting results!
Finally, let me remind you that there's quite a bit of
LinkedIn Help
here on the site and, heck, if you're curious, you can even
find me on LinkedIn too
.