I've had it with eBay. I list things and either get no bids or I find that the bids are from accounts that are bogus or people overseas who have no intention of closing the deal. It's a hassle and I just don't find it worth the trouble. Instead, I'd like to try selling some things on Amazon.com, which seems more legit and less plagued by scams. Can you offer up a basic tutorial on becoming an Amazon merchant and selling goods on Amazon.com?
I concur with your assessment of eBay, believe it or not. I used to be a very active buyer and seller, but find that I visit the site maybe once a year or so for something obscure or hard to find elsewhere. And I think 95% of the things I sell online are now through Craigslist, which lets me ignore the hassles of shipping and instead just meet up with the buyer and close the deal with cash. Safer, easier.
But sometimes what you have isn't a product that is of interest to people within a few minute drive of your house or work, so you need to sell it on a site with a more national or even international presence. Enter Amazon. What's you might not know is that Amazon used to have a separate auction site, Amazon Auctions, years ago (then again, Yahoo had an auction site too). eBay put them out of business but instead of just shutting down Amazon Auctions, they smartly wove the individual seller tools into the primary Amazon store.
When that happened, I recall people insisting it was a terrible idea because people would always buy the used goods instead of the new, but the latest financials from Amazon seem to suggest that was an unfound fear. And, of course, it opens up the opportunity for people like you and me to list our goods on the same page as the brand-new item is offered.
Alright, enough backstory, let's get into the tutorial! 🙂
To start out, just go to the bottom of any page on Amazon. You'll find a bunch of text links, buried in the middle is a section labeled "Make Money with Us":

Click on "Sell on Amazon" and you get to decide what kind of seller you want to be:
Note the description: If you're planning on selling less than 40 items/month, you should just sign up for "Sell Your Stuff", the non-pro account. Down side: higher transaction fees, as you'll see when we list a Nintendo peripheral that I want to sell…
To proceed, I'll click on "Start Selling" under the "Sell Your Stuff" and jump immediately to information about the product I want to sell.
To start, it requires that I find the new product that exactly matches the used product I have:
I'll specify the product category and enter the exact name of the product (
Nintendo wifi usb connector
):
A click on "Start selling" and…
That's it. That's exactly the product I want to sell too. Good. If you can't find a match in the Amazon database for the product you have, by the way, I'm pretty sure that means you can't sell your goods on their site. For one-of-a-kind or unique items, it might well mean that you're back on eBay after all.
Fortunately, that's not the situation, so I click on the "Sell yours here" button to proceed…
Yup, that's the exact product I want to sell. To proceed, all I have to do is scroll down on the page and start entering data.
First up, specify the condition of your product:
Needless to say, for happy customers, be honest with your assessment of the product you're selling. For me it's easy: the Nintendo wifi usb connector is still in its original packaging so it's quite reasonable to list it as "new" in this instance.
Scrolling down a bit further…
Initially, I entered "original packaging – unopened" (then my son leaned in and added some exclamation marks, as you'll see later), but after seeing how it ended up listing, I realized it was the perfect place to also note that I'm a brand new "just launched" seller, but that I am still reliable and trustworthy. Key idea: take a minute or two to think about how to describe the condition of the product while simultaneously minimizing the wear and tear (without being dishonest, of course!)
The next step is the most exciting, of course:

Be aware when you set the price that there are a lot of things to consider, not the least of which is that the Amazon commission is quite substantial. In fact, I end up listing the product for $55, of which I'll only end up seeing $48.40 (a commission of $6.60 which represents a 12% fee).
Smart sellers also look closely at the prices other sellers are offering and try to undercut them: getting 80% of what you hope quickly is a lot better than holding out for months hoping that someone will pay the premium price. There's also the factor of how much the product costs new. If it's $60 new, then selling a used one for $55 is not very savvy. I'd say that you should drop at least 15-20% off the new price even if yours is in mint condition.
But we're not done yet!
The next step is specify the quantity you have for sale. Probably it's quantity 1, as I have here:
The last step is to specify what shipping method you'll use. This can be rather confusing, quite honestly, as you can see: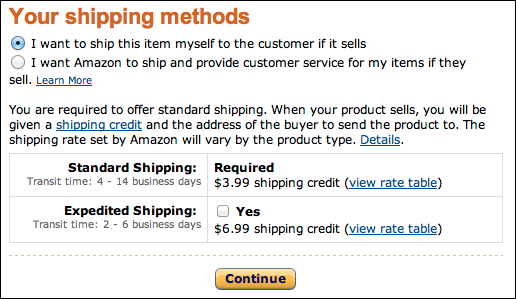 If you want Amazon to do all the work for you, they can, but it'll cost you more. Here, we'll package and mail the product ourselves when someone buys it from the site. Unlike eBay, there are no surprises for buyers when the seller has sneakily set their shipping cost to 2x, 3x or even more than the actual cost of packaging and mailing it. If you're an eBay buyer, you know exactly what I mean!
Just about done. To verify your identity before it actually submits the listing to the database and your product appears for sale, Amazon asks you to log in with your account credentials again. Easily done, you already have an account if you've gotten this far!
Here you'll get a summary of the information you've specified, a last step to verify spelling, pricing, and all other details:
Ready? Click on the "Submit your listing" button…
Congratulations! You're now an Amazon Marketplace seller with a product for sale:
Curious how it looks? You'll get an email from Amazon and it'll have a handy shortcut URL you can share with your friends and potential buyers. For my listing, it's:
Here's how it appears on the product page:

If you want to see how I've tweaked the condition description, by the way, click on the above link and you'll be taken to the Amazon product page directly.
Note: if you've never set up an Amazon seller account, you might have a few more steps you'll need to take, including setting up your merchant account business name. Stymied? Post a note here and I'll help you out!