Hey Dave. I wanna search MySpace to find some of my friends at my high school. Is there some way to do that, or do I need to get their MySpace contact info from them directly?
There certainly is a pretty powerful search system in MySpace, but it's not actually obvious where it is because of the complexity of the interface. I found it, however, but just poking around and experimenting.
I'm not in high school any more *ahem* but to demonstrate how to do this, I'll search for the local high school instead, Boulder High School, in Boulder, Colorado.
The first stab I'll have is to simply use the top search bar, specifying "people" as the search category:


The result? Not good: "Sorry, we weren't able to find a "boulder high" on MySpace.com"
Yeah, well duh. I didn't think that the high school had an actual profile page on MySpace (though one of my favorite cafes, Amante, does have a MySpace profile!)
Instead, let's go to the power search tool for power MySpace users. That's accessible off the "Friends" option on the menu bar:
That takes you to a more sophisticated search box: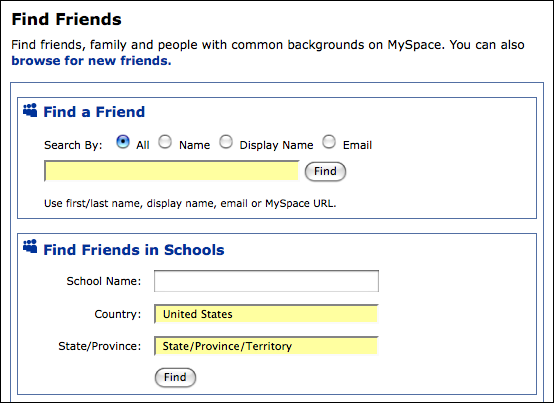 Add a school name and a state:
and I'm taken to a group called "Boulder High School" with 2839 members:
From what I've seen, most school groups are split into current students and alumni, so it's interesting that the Boulder High group is just alumni, but that could also be simply because most all of the profiles are for under-17 and I can't generally see younger MySpace user profiles.
Anyway, once you're there, you can of course click on any of the people in the school group and you're looking at the usual set of choices, including "friend".
That should get you where you seek. Good luck in high school!