I'm trying to come up with a new name for our software product, having been informed by a customer that a really big firm that has lots of lawyers already has our current name trademarked. Ugh. We don't have money for a lawyer at this juncture, is there some way I can do a trademark or registered trademark search online?
Smart idea to check the United States Patent and Trademark Office (the "uspto") to see if the word or phrase you want to use is already trademarked or not. It's not the easiest site to navigate and some of what it warns you about seems a bit obsolete technologically, but once you get the hang of it, it really is easy to poke around and can be extraordinarily interesting (like learning that Facebook has a registered trademark for the word "Like").
To demonstrate, I'm going to do a search for the phrase "Made Easy" to see if it's been used in publishing and if so, in what specific context.
First step is to go to the USPTO, easily found at USPTO.gov.
Once you're there, you'll see a list of options on the left side: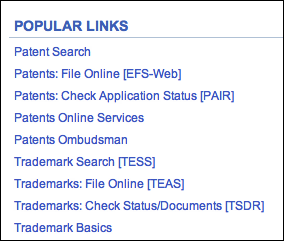 Yup, you can also search patents, if you really want to find out how many curious inventions have been filed with the government. Search for patents related to "bike seat" or "hot coffee" or "windshield wiper" to get started, if you want to be sidetracked for a few hours!
Assuming you want to stay on task, however, you'll want to click on TESS, the Trademark Search option that's #6 on the list.
Now you're moving into lawyer territory…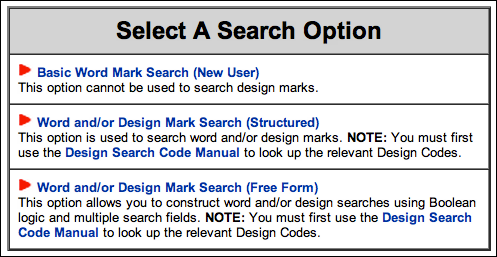 Fortunately we can use the basic search feature "Basic Word Mark Search", but you can see here what I mean about this feeling a bit 1990's in terms of its interface and usability. I suppose that if you're a patent and trademark attorney, this is very comfortable nomenclature, but for us casual users who pop onto the site to check something, it's more than a bit confusing.
Click on "Basic Word Mark Search".


Lots of options here before you do the search, but TESS does most of the hard work, so you can simply type in the word or words associated with your trademark query in the "Search Term" field and ignore everything else on the page. What BI, TI, MP and TL are remains a mystery to me anyway…
A click on "Submit Query" and you'll see your results:


The search for "made easy" produced an impressive 937 results. Most important to notice is the last column: all of the trademarks shown here are live: if you find a trademark that's marked dead, then it's expired and can be overridden by a new trademark filing.
The other thing to notice here is that there are 937 results. This means that it's very hard to register a trademark for a word or phrase and defend it against all possible conflicts in every area. In fact, you'll find that a trademark is
within a specific business segment
, so while Facebook might have registered the trademark for "Like" it isn't a conflict if there's a "Like Donuts" store down the street from you (though if you own like.com you might have a tricky time. interestingly, Google now owns like.com, as it happens, so one can only imagine the discussion that their lawyers have had…)
You can see this in the results too: Sharper Cards Marketing Made Easy doesn't conflict with Tithing Made Easy, Factoring Made Easy or Safety Made Easy. Short, common words are hard to trademark, but specific titles are easier.
The USPTO has trademark examiners too, and any competent IP attorney should keep an eye on your registered trademark too, to flag any potential confusion in the marketplace or conflict in the pending trademark list. If we wanted to register "Like: The Social Network", for example, I would absolutely expect Facebook's legal team to contest it.

Indeed, when I registered "intuitive.com" as a trademark, I got lots of pushback from the legal team at Intuit Corporation and it took over a year for us to address their concerns and get approval from the USPTO.

Finally, if you want to look at a trademark, there's lots of information on file: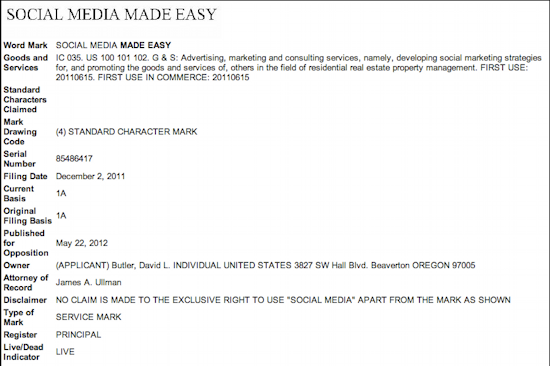 The above information is for
Social Media Made Easy
, which certainly seems rather generic (there are 81,900 results in Google for that search), and you can see that trademark owner David Butler filed the trademark in December of 2011 and was granted the trademark in May of 2012.
Most importantly if you're doing a trademark search for a possible product name, notice the "Goods and Services" section. That's where it specifies within what business segment they're going to enforce the exclusivity of the trademark: "Advertising, marketing and consulting services, namely, developing social marketing strategies for, and promoting the goods and services of, others in the field of residential real estate management."
That's the specific segment, residential real estate management. That means that if you wanted to also sell your social media management services to Realtors with the name "social media made easy", you'd be in violation of this trademark. If you wanted to have a college class with this title, however, there's no conflict because you're not in the same business segment. Make sense?
That's the basics of how to do a trademark search. What you do with the results, however, is up to you. I am definitely not an attorney and while I have a couple of registered trademarks in the database (including "Ask Dave Taylor". Look it up) I should definitely
not
be relied upon for any legal advice or counsel.