Now that I have a fair number of friends on Facebook, I'm wondering what I need to do so that I don't see the status updates in my newsfeed from the more, uhm, lame of my friends. I don't want to unfriend them, I just don't want their marketing drivel or personal junk in my news feed. Is there a way to do that in the new Facebook UI?
Hmmm…. sounds just a little bit likely that you have a bit of an issue with your friends or at least your choice of friends on Facebook?
Then again, I'll be candid, I have friends with whom I'm linked on Facebook who do seem to spend too much time echoing their Twitter updates or posting Facebook updates that are links to their latest blog entries or other crass and annoying usages of the Facebook system. They're not wrong to do so, I mean it's an open system, but I think it's not unreasonable for me to screen or filter their updates so I can focus on the interesting stuff from my closer friends.
That's a whole philosophical debate, actually, and I invite you to add your two cents at the end of this blog post if you want to share your views about friending people whose updates you might not be interested in seeing…
Back to the task at hand, however!
Without picking on someone other than that she's a convenient guinea pig for this entry, here's a status update from my Facebook friend JoLynn Braley:



As you can see, a fairly straightforward update entry and all the visible options are along the bottom: Comment, Like and Share.
None of them are quite what we want, but here's the secret: move your cursor to the top right of the region and a hidden option appears:



Like some sort of adventure game, a new button appears when the cursor is in the right spot, "Hide".
Click on it and: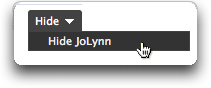 That's how you hide updates from a specific user. Choose it and:



Bye, Bye JoLynn! 🙂
There are certain types of updates, like Digg updates, that can be blocked separate from an individual user too: when that's the case, the "Hide" button brings up a menu with more options than just the user.
Finally, if you scroll to the bottom of your Facebook home page, you'll now see:



You can click on the "hidden post" link to temporarily view the filtered or screened news status updates, or, if you click on "Edit Options" to see who you've blocked: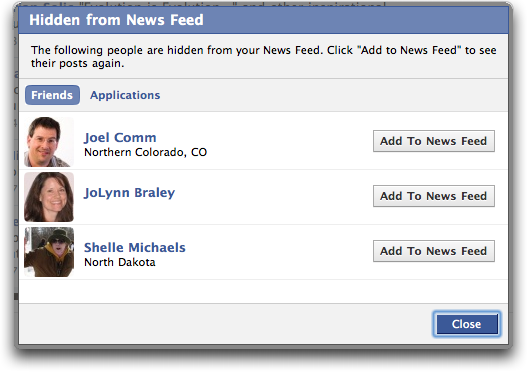 As you can see, it's easy to make changes.
I hope that helps you fine-tune your Facebook friend update news feed.
I'd also like to let you know that I have quite a bit of
Facebook help
here on the site and that I also have an
Ask Dave Taylor Facebook Fan Page
that I invite you to join.