I have heard you talk more than once about how you write blog entries and schedule them for future publication so that you can space things out and work ahead, rather than having to create a new blog entry every day. Nice, but how do I do that in Wordpress?
You are exactly right that I create blog posts days or even sometimes weeks in advance. This blog post I am writing at 4:30pm on Monday but it won't actually show up until Wednesday morning, two days later.
Now, I use Movable Type, not WordPress, but the basic process is the same: you write your blog entry, go back and forth with the preview feature until it's exactly as you desire, then you mark it for publication and, before you push "publish" also indicate when you want it to be published.
Here's how that looks on a blog running WordPress 2.6…
First off, when you are composing a blog entry you'll see the Publish Status box on the right side: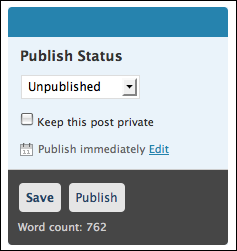 Most blogs are set up so that by default your entries are marked as unpublished, and you have to manually change it to "published":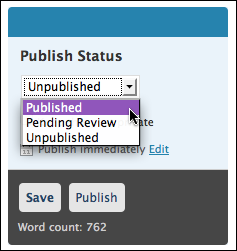 That's something you're probably already doing. What you haven't noticed is that immediately underneath that menu says "Publish Immediately
Edit
". That's what you want to select. Click "Edit" and…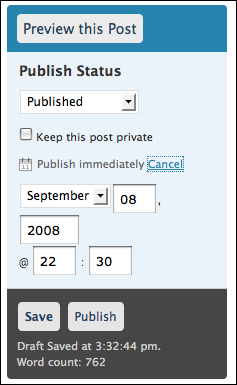 Ahhh….. now you can see the secret solution. Just set the date and time you desire, double check your status is "Published", and click "Save".
Hope that helps you work less and blog more!