I don't know if this is even possible, but my girlfriend keeps sending me cute pictures and when I read them on my iPhone I really wish I could save them and use them as wallpaper images. Is that even possible on the iPhone, or do I have to get my computer involved in the process?
Ahhhh… romance….
You can accomplish what you seek, but it's a relatively new feature of the iPhone operating system firmware and I'm pretty darn sure that you didn't have that option when the phone first came out. it's one of those subtle refinements that have made the iPhone a better and better gizmo as it's evolved (though the iPhone still sadly suffers from being tied to the miserable AT&T network, but that's another story).
I'll demonstrate how to accomplish this with a typical picture of a girl on her bicycle…
To start, on the iPhone, I'm viewing the email message so that the photograph is visible:

Now here's the trick: tap and keep your finger on the photo for about five seconds. All of a sudden, some darn interesting options pop up:
If you want to drop that photo into another message or another app, choose Copy, but for your purposes, choose "Save Image" instead.
The photograph is saved into the photo gallery on your iPhone. You can check this by going to your gallery view, where you'll see something like this: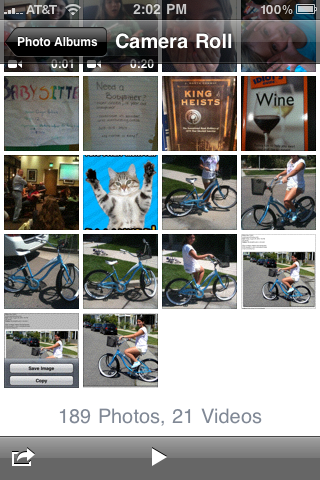 There's our newly saved image, so a quick tap on it and…
Voila! Neat as can be, eh? Now when viewing the image, simply tap on the "arrow" button on the lower left and one of the choices will be "Use as Wallpaper".