I've been buying different applications for my iPhone and would like to start leaving some ratings and reviews of those that I like. I can't figure out how to do it from my iPhone 3GS, however: what's the secret?
First off, did you know that I have my own iPhone app that duplicates all of the content of this Web site in the palm of your hand? For $0.99 it's garnered a bunch of five-star reviews and is a no-brainer purchase. Check it out, the first iPhone tech support app [iTunes link].
Advertising interruption done, let's look at your question! 🙂
There's one way you can rate an application from your iPhone: delete it.
No, seriously. If you go to delete an iPhone app, it invites you to rate it as you're proceeding: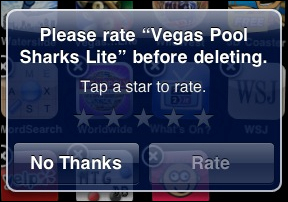 That's not very practical, especially if you actually like the application!
The secret, therefore, is
rate it within iTunes
, not on your phone.
"Ahhh, okay" you say, "but how do I find an app that I've already bought?"
I can help you out with that. Let's start at the beginning, though.
Start out by launching iTunes (Mac or PC) and look on the left side. You'll see this:
Click on "iTunes Store". Now, on the top right, you'll see a search box. Type in the first few letters of the app's name or a keyword that describes the app. As you proceed, you should see iTunes offer suggestions, as shown here: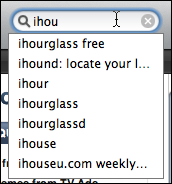 When you've entered a few characters or even the full name of the app, press Return and you'll see the matches shown:
Good. Click on the one you want. For this example, I'll click on
iHound
as I've been meaning to leave a review for the app anyway.
Now on the left side, just a little ways down, you'll see: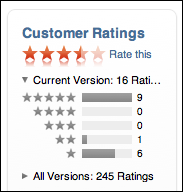 If you just want to rate the app with 1-5 stars, just click on "Rate this".
What you probably want to do, however, is actually write a review. To do that, look a bit lower down in the middle of the iTunes window. You'll see something more akin to this:
Can you guess what you're supposed to click on? Yep, on "Write a Review". Do that and you'll see: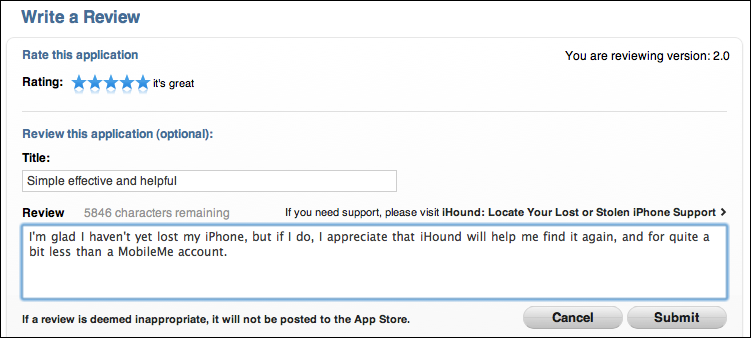 Looks good? Click on "Submit" and you'll get this confirmation:
Done. Congratulations!
---
Disclaimer: obviously, the
Ask Dave Taylor iPhone app
[iTunes link] is affiliated with my site. The same development team also created the slick
iHound
[iTunes link] app too. Now you know.