I sent my iMac into Apple for service and was rather distressed to get it back with the OS reinstalled and everything else wiped clean! I said "restore from Time Machine", but it never saw my Apple Time Capsule. What's the trick, Dave?
First off, you bring up an excellent point, a reminder that everyone reading this should take to heart: always do a full backup before you take your computer in for any service work. I have had my hard disk wiped and rebuilt almost every time I have ever sent my Apple computer in for service, even when all they were doing was something like fixing a keyboard problem. Your best bet is to always assume that you will have your hard disk cleaned and be surprised if it isn't.
I was glad to see your query because when I recently sent in my MacBook Air for service (it needed a new heat sink to stp overheating and slowing down) I again had the hard disk completely reformatted and the latest version of Mac OS X installed on the drive. The good news? I already have a 500GB Time Capsule and religiously use Time Machine to have solid and reliable backups.
Of course, you never really know if your backups work until try to restore from them, so it was providential that your question arrived just as my MacBook Air returned from Apple service. I set up my camera and tried to capture all the screen shots as I went along, including some amusing sequences.
Here's what you see first, of course, when you power up your post-service Mac, because it's a brand new install and acts like a newly purchased computer:


As you can see, the key selection here is that you want to restore your account and disk information "from a Time Machine backup". Choose that and click "Continue". Now you'll see something that's a bit disturbing:


Where, you might wonder with some panic, is your backup volume? Where's that Time Capsule gizmo that is still plugged in and still running? It's hiding! You need to click on the "Join…" button on the lower left (not shown in the above). Once you do, there's another moment of anxiety waiting for you: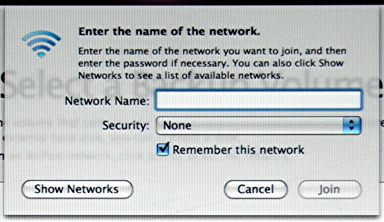 You need to remember the
name
of your wireless network? Not so fast. At this point you actually can just click on "Show Networks" and, poof: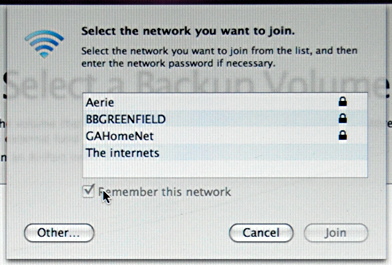 You can see my neighbors networks and my own, Aerie. Since Aerie is a protected network (and yours should be too, by the way), when I click on it, I am prompted for a network password: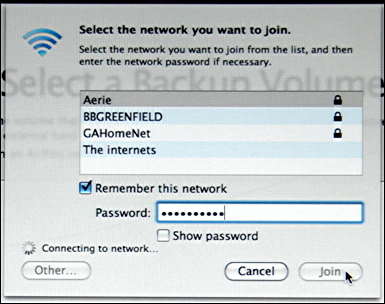 Enter the password correct, click "Join", and now you're on your wireless network, the one that hopefully has the Time Capsule accessible:


Not sure if you can read it here, but my Time Capsule is called "Time Tunnel" (yes, after the goofy TV show of the same name) and you can also see that the system recognizes that a login and password are needed to successfully connect to the device.
To continue from this point, I click on the "Continue" button (not shown) and: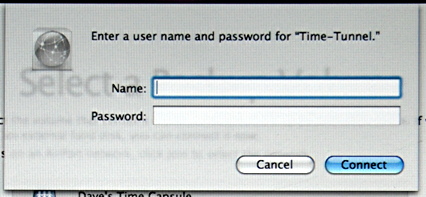 Time to enter a valid login and password pair to gain access to the Time Capsule. Hopefully you remember what you used when you set your own up!
Once you enter appropriate credentials, you'll see the Mac spend some time digging around in the Time Capsule system (actually the Time Machine backup on the Time Capsule device, if you want to be pedantic):



I actually have more than one computer backing up to the Time Capsule, so when it first connects, it actually randomly picks the wrong device, my MacBook Pro. As you can see, it finds four categories of backups:


More importantly, notice the "Calculating" entries where the aggregate file size will be shown. That'll come back and haunt us in just a moment, but for now, I need to change the pop-up menu to pick my MacBook Air backup. The Air is called "Lighter than Air", as you can see:


To proceed to the next step
you must wait until it calculates all file sizes
at this point. In practice, with my multi-gig backup, this process took over 30 minutes. Thirty long, tedious, wasted minutes. I realize that the point is to avoid you ending up restoring more data than you have space for, but surely there's some sort of indexing system that could be used in a Time Machine backup that would let you avoid this sort of tedious waste of time?
Anyway, finally, after muuuucccchhhh time passed, I saw this: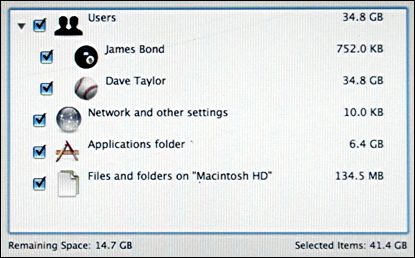 Now, finally, I could click on the "Continue" button, and then promptly see:


Nice, happy, cheery Macs. A few basic elements transfer, then we get into the nitty gritty of the process, transferring all the different categories of files and data in the archive. First thing that I see is:



Not too bad, less than two hours left. Except, it's not. Quite a while later, I see:


and:



Now watch what happens here carefully. The Applications transfer mysteriously slows down and though I've actually progressed, my time estimate goes far back:


Weird, eh?
Anyway, about seven hours after I started my "two hour" restore, it was done and it's time, finally, for the screen you want to see: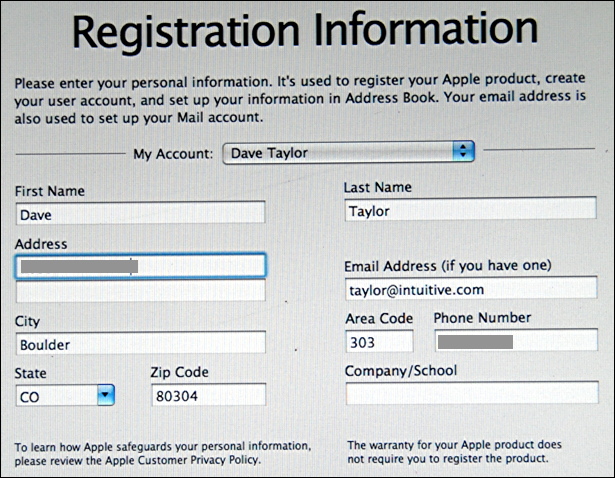 It's a new computer, right? So you get to answer a bit more:


And, finally, after a remarkably long period of time, the computer restarts and when it's done, I see my two default accounts ready for login: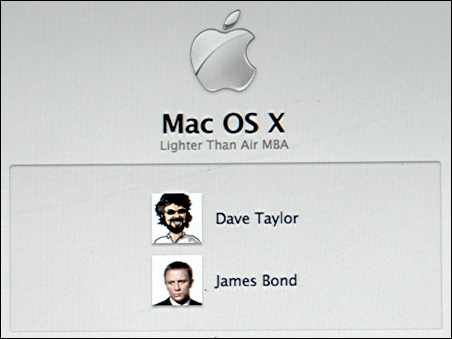 When I do log in, I'm delighted to find all my files, folders, preferences, iTunes library, photos, and everything else configured and set up just as it was before. Turns out that the Time Machine backups do work!
I hope that this long walk-through is helpful to you.