My iPhone is being very weird: when I plug it into my iMac the computer doesn't seem to recognize it any more. How do I fix it so I can be a happy iPhone user again?
I recently encountered a similar problem, though I am guessing that it was for a different reason: I have three different Macs that I will occasionally use to connect to the iPhone. One day I plugged my own early 4GB Apple iPhone into my MacBook and while I didn't expect to be able to add music to it since it wasn't the primary computer with which I synced the unit, I was nonetheless quite surprised to realize that iTunes had lost all ability to differentiate between music, video, photos and other content.
How did I know? By looking at the summary graph in the app. It looked like this:


That's not good. No way around it. Since I know I have a backup of the Address Book and all the music and video that I had squeezed onto the device, I thought that it was time to experiment with a restore. So I clicked "Restore" in iTunes.
Then the first of many rather scary warnings popped up:



I clicked "Restore" again and adverted my eyes, fearing the very worst: a completely wiped, out of the box new iPhone with nothing on it.
Rather to my surprise, iTunes took advantage of the restore process to also upgrade the phone software (I had thought I was up to date already):


Since I was already committed to the process at that point (mentally, at least, I suppose I could have clicked "Cancel") I choose "Next" and then watched a progress bar for a few minutes as it downloaded and installed:



… and watched a different progress bar:



… and yet another:



Finally, after much progress (as you can see!) iTunes told me that the iPhone was restored:



At this point I waited and after a minute or two the phone restarted itself and reappeared in Apple iTunes: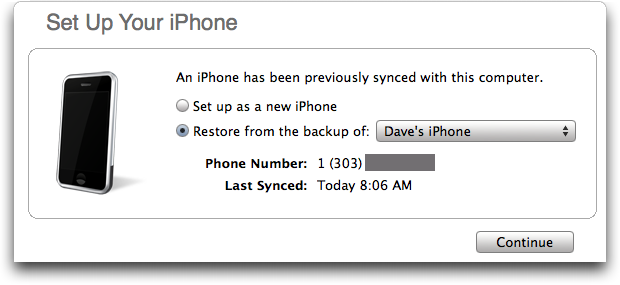 That was, I don't mind saying, quite a relief! Nowhere in the process of restoring an iPhone does Apple say anything about being able to restore the backed up data. I thought I'd have an unknown phone and be manually configuring everything, but, fortunately, that wasn't the case!
No question, I choose "Restore" and "Continue" here and got to see yet another progress bar dance on my screen:


If this were a musical, we'd have Danny Elfman writing themes for these progress bars, wouldn't we? Or would we trim that part of the production down a bit? 🙂
Once again, iTunes wanted to restart the phone:



Once it did, things did start to look a bit better:


(though it's still a puzzle what "Other" data is using 188MB. My address book, etc., aren't that big!)
Since I have my iTunes / iPhone setup configured to automatically sync with my music library (well, a subset of it with a 4GB phone) the next prompt I got — after it had ostensibly restored from backup — was to resync my music:


And so I did, clicking on the fateful "Erase and Sync" button. And guess what I saw?



Finally, my iPhone was restored and resynced. Net result? I lost the photos that I'd downloaded on the phone, but otherwise all the notes, phone numbers, weather locations, timezones in the clock, old text message discussions, icons, custom bookmarks, etc etc etc were all restored without incident.
It was a tiny bit unnerving to wipe a well-used cellphone and restore it, and I'm still a bit puzzled what's in that 188MB of "Unknown" data, but it is a survivable process and there's precious little that appears to be lost along the way.
Oh, and you get to see a lot of progress bars!