Now that I have a bunch of apps on my new Apple iPhone 3GS, I want to change what's where in the most efficient manner possible: dragging back and forth isn't my idea of fun when there are three screens full of icons! What's the best approach for reordering my apps on the iPhone?
I totally understand, but I have to say that with three screenfuls of apps you're still just getting started. I have eleven. That's almost 200 apps on my phone, and, yeah, you're right, it's a pain to get it all organized properly. What I'd love is the ability to "pin" certain applications to my home screen then have everything else automatically organize alphabetically on subsequent screens, along with an alternative long list of every single app that I can quickly scroll down. Then again, there is a simple search feature that can match an app in two or three letters, but still…
As you know, the standard way that people reorganize the apps on their iPhone (or Apple iPod Touch, for that matter, and, most likely, the Apple iPad too when it's available) is to tap and hold your finger on an icon until they all start to wiggle back and forth.
At that point, it looks like this: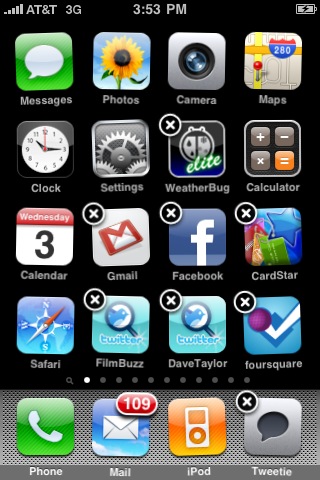 Start dragging your app icon or Web page shortcut and everything moves out of the way, like a scary dude walking through a crowd:
When you have things where you want them, lift your finger off the screen. When you're done, tap on the home button and it's all set.
What the cool kids do, though, is to use iTunes when the phone is plugged in to the computer instead. Plug your iPhone in to your computer, kick off iTunes, choose your phone, and you'll see a tabbed interface:
Click on the "Applications" tab and you'll see some cool stuff. Most obvious is the list of every app that you've download into iTunes, whether or not it's still on your iPhone: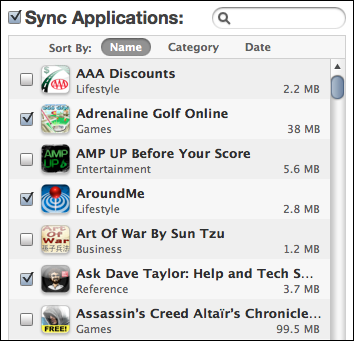 Here you can see that I still have copies of AAA Discounts, AMP UP Before Your Score, Art of War by Sun Tzu and Assassins Creed in iTunes, though I don't have them on my phone at this time. Space management, ya know.
Far more interesting, though, is that on the right side of this window you'll see a representation of the home screen of your Apple iPhone 3GS in all its icon glory: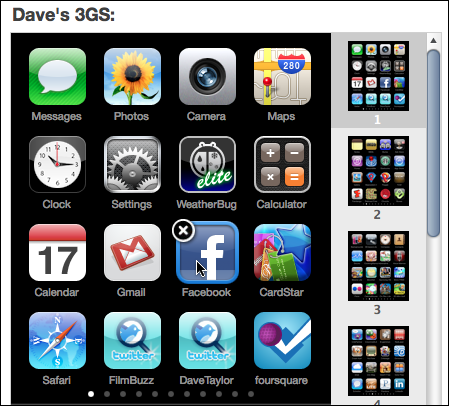 By placing my cursor over the Facebook iPhone app icon, it automatically changed color and gained a small delete "X" on the top left. Click on it and I'd delete the app (though it won't be deleted from my phone until my next sync, nor will any changes you make be reflected until you sync up your phone again).
Drag the icon around and everything moves out of the way, just as it does on the phone:
Even better, move it to one of the mini-screens on the right, and you'll instantly flip to that screen and watch the icons move around as you figure out exactly where you want to drop the app: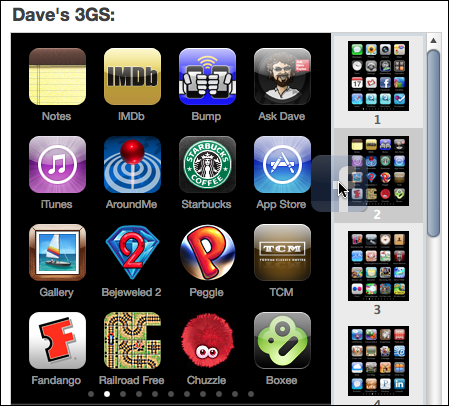 Notice here that I'm dragging the Facebook app icon (almost invisible in this screen shot, sorry) onto the second mini-screen of icons and it's flipped to show me the icons on this screen.
Drop it when you're done, click on "Apply" on the bottom to apply the changes you've made and *poof* you just reorganized your iPhone application icons on the phone without having to actually touch the phone itself. Slick!