Dave, I purchased a used macbook from a friend and need to change the Home Icon (House) name from his to mine, but I can't find information anywhere to do this. It is driving me crazy. Can you possibly assist?
It took me a while to figure out what you were talking about, and the first time I read this question I thought you were talking about the home icon. What I believe you're asking me instead is how to change the default account name on a Mac.
This is a slightly dangerous maneuver, actually, because you can get into all sorts of trouble if you log in to the computer and there's no appropriate home directory. As a result, what I suggest is that rather than delete the old account or rename it, I'm going to show you how to create a new account for yourself then change the settings on your Mac so that your new account is the default login account when you restart the system.
Before we start, ask your friend for the password he used and write it down. Somewhere along the way with this process your system won't automatically be logging in to his account (or her account, as appropriate) so you'll want to ensure that doesn't cause trouble for you later. If he doesn't remember, well, we'll proceed and I'll highlight what you can do to fix things if it's an issue.
First step is to go to Apple –> System Preferences… and choose "Accounts". It'll look roughly like this: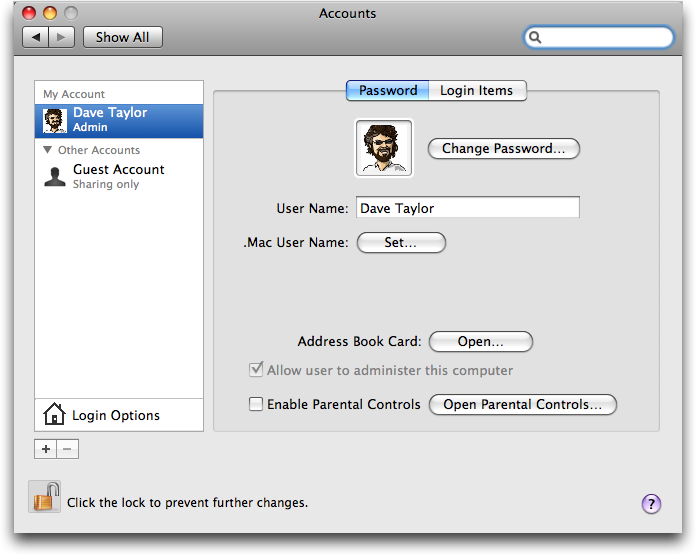 Notice that under "Dave Taylor" on the left side you can see "Admin". That's what you want, and it's probably listing the name of your friend. We could change it in the "User Name" field, but that doesn't change everything in the system.
Instead, click on the ~ez_ldquo+ez_rdquo~ button on the lower left. Now you can set up a new account for yourself.
Make sure you specify "Administrator" as the account type too
: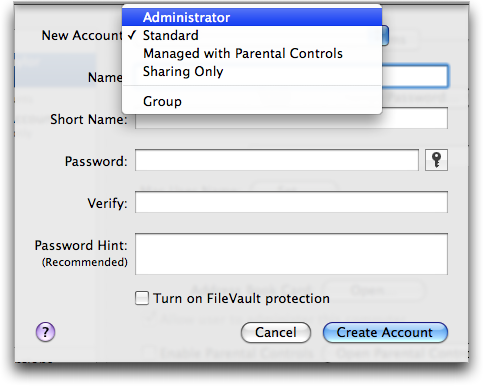 I suggest that your "short name" be just your last name, but it's any sequence of letters and digits so you could do "mike007" if you wanted too. Specify values for all the fields, double check that you've selected
Administrator
as the account type and click on "Create Account".
Since I never know when someone from MI6 might want to borrow my laptop, I've gone ahead and set up an account for James Bond (with a picture of the only true Bond too):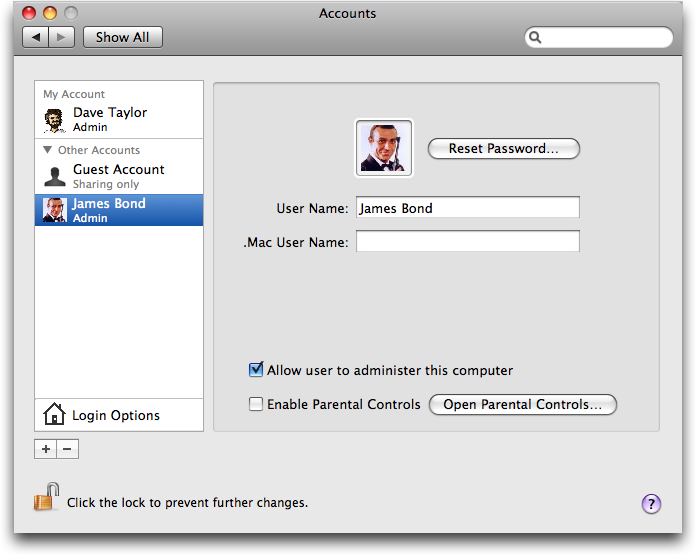 You'll again want to double-check that you've selected "Allow user to administer this computer" and, if you'd like, add an appropriate picture as the icon rather than using one of the boring default images from Apple.
Almost done. That's your account set up. Now, to change your Macbook so that it automatically logs in as you, rather than as the old owner. This is done by clicking on "Login Options" on the lower left. It'll show something like this: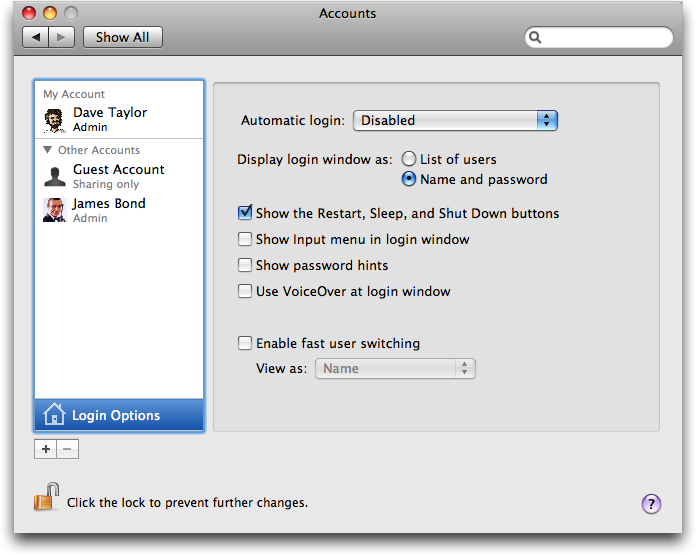 If you do want it to automatically log in to your account each time you start up, simply choose the correct account name from the "Automatic login" pop-up menu:



It'll ask for the password to that account as a security precaution. Enter it, close the window, and restart your Macbook.
That's it. You should now have your "home" directory appropriately named and, more importantly, you're now running in your own account without having to worry about any of the old files from your friend.
If you want, you can go into his old directory structure and copy or delete files too. Just go to your Home, then go up one level and find his home.
Hope that helps you out of this pickle!