My kids think it's quite a lark to add goofy words to the spelling dictionary in Microsoft Word on my MacBook Pro, which I don't mind except now I find that some of the words that I commonly misspell aren't be flagged as misspelled either. Not good. How can I clean up Microsoft Word on my Mac so that it doesn't have bogus words?
Now you know why you should prohibit your kids from touching your computer. It's those unintended consequences from their curious fingers and amused minds that can getcha in the end!
Fortunately, once you know the secret way to get to the file, you can actually edit your Microsoft Word spelling dictionary on your Mac OS X system pretty darn easily.
let's start by adding a bogus word to the spelling dictionary by choosing Add from the pop-up contextual menu that you can get by Control-clicking on a word that has a little red squiggly line underneath: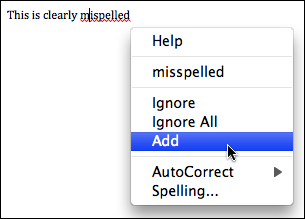 Now that you've added it, the red squiggle goes away. But, really, you know that the word is properly spelled "misspelled", not "mispelled", right? Let's fix it!
Start by going to
Word
–>
Preferences
. You'll see this:


What you want to click on is "Spelling and Grammar". Now you'll get this view instead: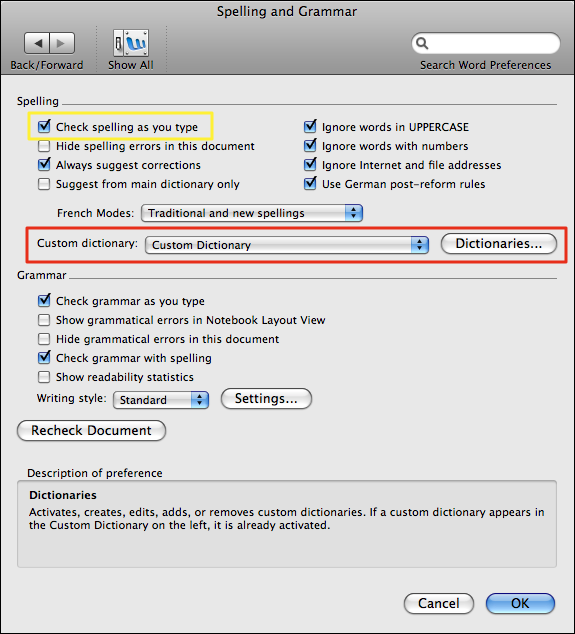 A big window with lots of choices. What you need to do is select "Custom Dictionary" in the middle (as I have here, and highlighted in red) then click on "Dictionaries…"
Next window looks like this: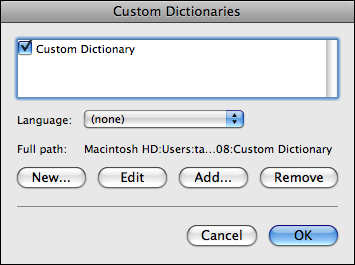 You can probably guess what to do. Click on "Custom Dictionary" in the list to select it, then click on "Edit". Now, finally, you're looking at your list of words that you believe are spelled correctly but aren't in the standard MS Word dictionary:



Oops. Um, okay. Click "OK" here to proceed.
You'll end up looking at a Word file that has the words listed one-per-line. Find the ones you don't want included, delete them (delete the entire line to save problems), then just
File
–>
Save
the window and you're done.
Now let's turn that spell checking feature back on since it does indeed end up disabled after editing the custom dictionary (which is a bit daft). That's done by going to
Word
–>
Preferences
, choosing "Spelling and Grammar" and then checking "Check spelling as you type" on the top left corner (see the screen shot above, where it's highlighted in yellow).
Now ya know!