Somehow I seem to be having an application on Facebook posting to my news stream information about me without ever remembering that I signed up for it. Disconcerting, to say the least! How do I check what apps I have authorized and delete ones I don't want from the Facebook universe?
I'd be quite surprised if it was a rogue application that was posting information about you to your own news stream or Wall on Facebook, actually. While there are some goofy apps out there, Facebook itself seems pretty darn secure and I haven't heard of anything like what you are worrying might have happened.
More likely is that you somehow authorized the app when accepting a friend request or RSVP'ing for an event or similar. I find that I occasionally do that myself, even though I try my very, very best to not sign up for any Facebook apps that aren't directly related to how I use the site (e..g, no games, no quizzes).
Step one, log in to Facebook, then look along the top right for the "Settings" option. Move your cursor over it and you'll see this:



Choose "Application Settings" and you'll move to a page that shows your dozen or so most recently used applications in the Facebook universe.
Perhaps you'll see something on that list that is incongruous or out of place: that might be your culprit.
More likely, though, the app you want won't be shown there, so go to the Show menu on the right: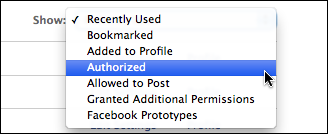 Choose "Authorized", which is the closest I can see to a missing "All" choice that'd be perhaps a bit clearer. Anyway, now you'll see every Facebook app that you've authorized to get involved with your news stream or Wall.
For this demo, I'll show
ReverbNation
. When I scroll down, I see this:


Notice here that there are three choices next to the app name: Edit Settings, Profile and X. Edit Settings might be useful if you want to keep the app around but change what it can do, and Profile lets you go to the app's home page in Facebook. The "X" is what you seek if you want to delete the application from your Facebook profile, though.
Click on it and you'll see:



You sure you want to do this? Then click on "Remove":


Done. One less application involved with your Facebook news stream.
Hope that helps with your problem.
I'd also like to let you know that I have quite a bit of
Facebook help
here on the site and that I also have an
Ask Dave Taylor Facebook Fan Page
that I invite you to join.