After a long, frustrating back and forth, I have decided that I'm going to refund a Paypal transaction from a customer who is dissatisfied with my product. I doubt I'll see the product back, but I don't now if I really care. I just want her out of my hair. Problem is, I can't figure out how to process a refund and I don't want to pay my transaction fees twice. Help?
Ah yes, one of the frustrations of working online are the refunds for transactions that you don't always feel are completely straightforward. Did the other person always intend to scam you? Did they have unreasonable expectations of your product or service? Did they realize that they could ask for a refund even though they'd used the service as per your description of it, and they just weren't paying attention?
The reality, of course, is that companies that are generous in their returns do create customer good will, while those that are stingy create lots of frustration, so even if you have a niggling sense that you're being ripped off by a dubious customer, most times it's best to issue a refund anyway. Just a cost of doing business.
But how to do so?
Here's how: connect to your Paypal account and once you're logged in, look along the top of the screen to find the following. You want to click on "Payments Received":



Find the transaction in question and click on "Details":


This is where you need to hunt around a bit, because what you'll see is a summary of the transaction:


… but if you scroll all the way down to the very bottom of the page, you'll see:



Click on "Issue Refund" and: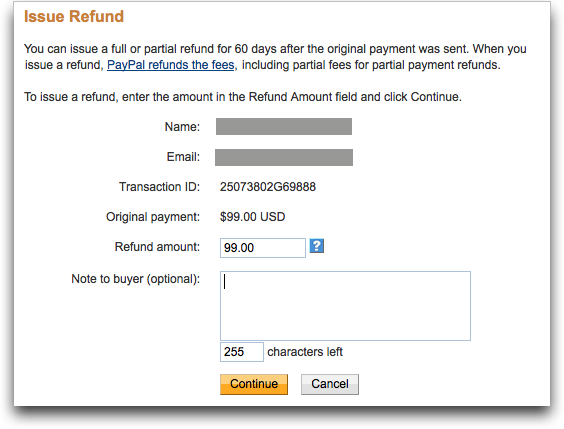 As you can see, you can issue a full or partial refund, and you can – and definitely should – add a note to the buyer explaining why you've issued the refund. Fill this in as appropriate and click "Continue":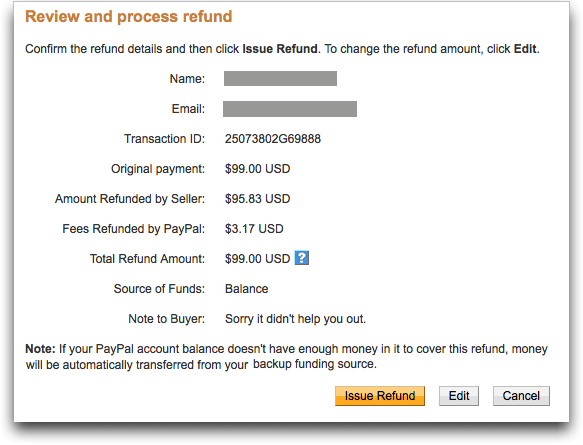 That's what you want? Click on "Issue Refund". Notice here that Paypal refunds the entire amount of the transaction, including the $3.17 in fees.



Success! Refund sent. Customer happy again.