Hi Dave, was wondering if you had any advice for me? I've been given an old iPod which has been formatted by a Macintosh. Is there any way of reformatting it for Windows XP. I've just downloaded Itunes 4.7 and when I plugged the thing in via firewire it came up with a restore option. However it comes up with "Only windows formatted Ipods can be restored". Is there a way of changing it over?
This is certainly an interesting question and I will optimistically hope that Apple has a tech note on this subject on their support site. Sure enough, in an article entitled How to determine your iPod's disk format, they say:
"You cannot use an iPod whose disk is configured for Macintosh on a Windows-compatible computer. However, you can restore the iPod disk to use it with a Windows-compatible computer."
Before we look into their suggestion for this, I'll note that the way you see if an iPod is Mac or Windows-ready is to go to Settings –> About and scroll to the bottom of the screen. If it's formatted for Mac OS X, then the last item will be the serial number of the iPod. If it's Windows-ready, then after the serial number will be "Format: Windows". Simple enough, if a bit obscure.
As it sounds like you've already ascertained, you'll need to restore your iPod to factory defaults (which has the nasty side-effect of wiping everything on the unit too, so I hope you don't have any music or videos you wanted to backup). It sounds like you have some of the hassle already taken care of: you plug in your iPod to your Windows machine and the PC sees it and iTunes sees it too.
So, your first step should be to ensure that you have the very latest version of iTunes on your Windows PC. You can do that by going to Download iTunes. Install that, and when you hook up your iPod, you should see it show up in iTunes, then when you click on the iPod on the left side of iTunes, you'll get to the summary screen. Kinda like this: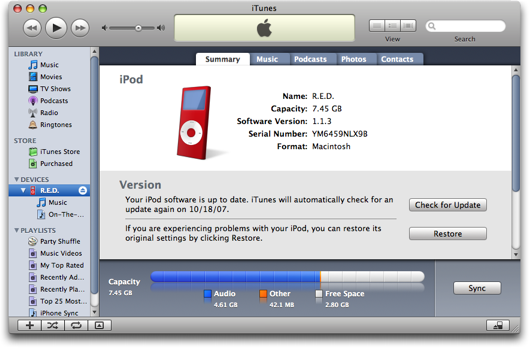 Click the "Restore" button and you should be prompted to choose between four different options:
Restore Option 1: Restore – Restores with same iPod Software version already on iPod.
Restore Option 2: Use Same Version – Restores with same iPod Software version already on iPod even though a newer version is available.
Restore Option 3: Use Newest Version – Restores with the latest iPod Software available.
Restore Option 4: Restore and Update – Restores with the latest iPod Software available.
I'd choose option #4 here.
If, as you say, you get to this point and it rejects it, I would suggest that you take your iPod to the closest Apple store (find one here: Apple Store Locator) and ask them to restore it for you. Since you aren't interested in any of the material already on the iPod, they should be able to do it on the spot.
Good luck. Come back and let us know how it worked out, please!