I've started reviewing Apple iPhone games and just had a game developer tell me that he'd like me to check out his game and sent me a promo code. I'm a bit baffled by this: how do I redeem a promo code for an iPhone application so that I don't have to pay for the game?
Ah, you've bumped into one of those hidden features of the iTunes store, actually, one that few people realize exists because, well, for most people they don't get a complimentary promotional discount code for the iPhone app store. 🙂
Fortunately redeeming an iTunes app promo code is pretty easy once you know the secret.
The first step is to find the application in question in iTunes, which I'll demonstrate with the Mac version of the program and the game 9 Lives Kitty, but which works regardless.
if you want to play along for part of the journey, click here: 9 Lives Kitty [iTunes URL]
Now you'll see something like this:

Surprise! That's the wrong place. What you want to do is go to the App Store home page, which is easily done by clicking on "App Store" right above the name of the game:

Once you're on the home page, look to the right of the screen in the Quick Links area. You'll see the following:
Click on "Redeem" and…
Sure enough, the spot where you'd enter your promo code for an iTunes card is the same place where you enter the promo code for the app from a developer too. Enter the value (it looks kind of like this: J3JMHAT7WHFX) and now you'll see:
Ah, whoops! You need to sign in to your iTunes account. Do that and then, finally, you'll get what you want to see: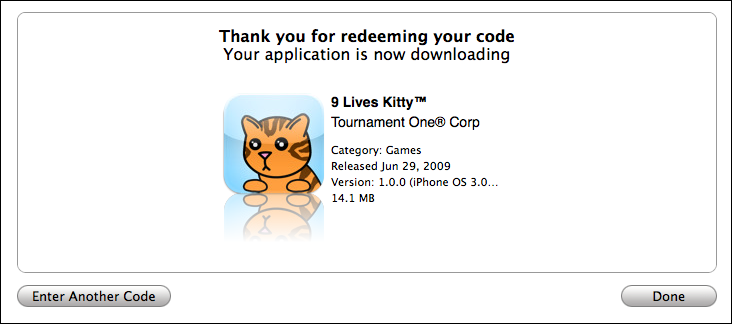 Sweet!
Once it's downloaded, you can transfer it to your iPhone the next time you sync (or just go to download it again from the App Store on the phone itself and let Apple warn you that "you've already purchased this item. To download it again for free, select OK").