I'm working with a company that's overseas and they want to send me some contracts via fax. Problem is, I don't have a facsimile machine and going to somewhere like Kinko's and paying to receive their fax seems a bit daft. Are there free fax services on the Web, or at least cheap fax services online?
There are a ton of services that can act as a virtual fax machine for you, though most of them are commercial services. One of the most popular of these services is eFax.com, though on first glance, it's a pay-only service.
In fact, even if you live chat with their support people, you'll find that they talk about what a bargain a $160/yr service plan is and state that they don't have a free fax service, but read on, and I'll share the secret of just how you can get a free receive-only fax account from eFax.
First, I have to share this as it's so interesting, it's the transcript of a chat I had with the sales rep at eFax:
---
Laura C
: Welcome to the eFax Sales Team! I am Laura, your Online Sales Representative. How may I assist you today?

Dave
: Hello. I am wondering if there's a lower-price eFax option than eFaxPlus: I only receive faxes, and only 5-10 pages/mo (if that!)

Laura C
: The basic cost for eFax Plus service is $16.95 per month. A one-time activation fee of $10.00 is also applied during the first month of your service. This plan includes 130 free incoming pages every month. Outbound faxing carries a fee of $0.10 per page (60-second transmission time or less) to destinations in USA.

Laura C
: I will also provide an additional $3 Gift Credit every month. With this, you can send faxes at the rate of 10 cents a page within the United States. This is equivalent to sending upto 30 pages of faxes free per month (International page rates differ).

Dave
: right, but if I wanted to just pay a per-page fee and no monthly recurring?

Laura C
: We do not have such plans.

Dave
: okay. thanks.

Laura C
: We have a promotional plan available.

Laura C
: As per this plan, I will be able to waive the one time activation fee of $10.00. Therefore, instead of $26.95, you can set up an eFax Plus Account for only $16.95. You can receive up to 130 pages of faxes free of cost per month. Outbound faxing charges are at $0.10 per page (60-second transmission time or less) to destinations in USA.

Dave
: thanks, but I'm looking for something that's less than $150/year. (I can buy a fax machine for less!)

Laura C
: Under the promotional annual plan, you pay only for 10 months of service & get service worth 2 months for Free. Thus, the discounted Annual charges for eFax will be $169.50. The set up fee of $10.00 is waived. It basically averages to $14.00 per month.

Laura C
: At eFax we value our customers the most. In accordance with providing the best of services to our customers, we now have a special Annual plan. As per this plan, the first month of service is Free. Thereafter, you are charged a nominal amount of $169.50 for a year. You pay for 10 months of Service ($16.95 X 10), plus you receive 2 additional months free. It basically averages to $14.00 per month
---
Notice that if you chat with 'em you can lower your price quite a bit from the standard published rates, but what I really like is the comment that $169.50/year is a "nominal fee". Uh, yeah, I don't think so!
Fortunately, you can sign up for their free service at
eFaxFree
. Just be careful, as you sign up you'll see this: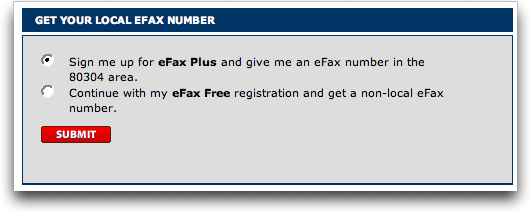 Choose the second option to retain your free account status. Now you're set up and should get a verification email from eFax with your new fax number. Mine is in the 253 area code (which is the southern region of Washington state), but what difference where it's located?
I was also confused because the confirmation email from eFax shows you a phone number and PIN. At first, I thought callers would need to enter the PIN, but in fact that's an account password for when you want to access the received faxes only and shouldn't be shared with anyone else.
Upon receipt of a fax, I received a prompt email notification that looked like this: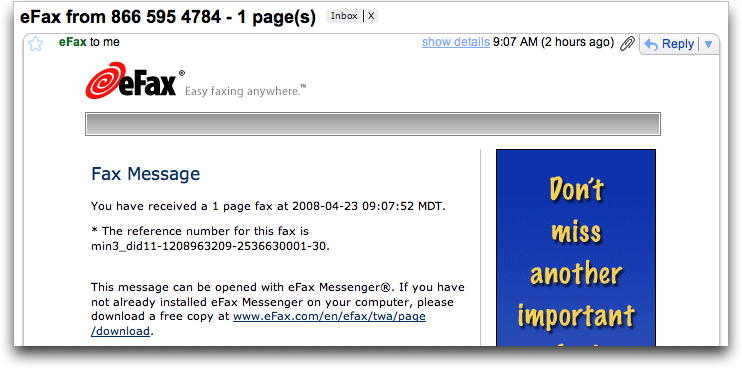 If you're so inclined, you can download the recommended application from eFax, but in fact you can just as easily view your fax in your Web browser. Instead of the app, you want to go to the
eFax Storage Center
, where you'll see a nice inbox of all your received faxes:


The messages you see here, if you click on one, look the same as when they were emailed to you:


The difference is that on the bottom of the message is a link that lets you either download the fax document in their weird 'efx' format, or view it:


Click on the actual fax image filename link (here it's "f524345.efx") and you'll actually be able to view the fax itself, within your Web browser: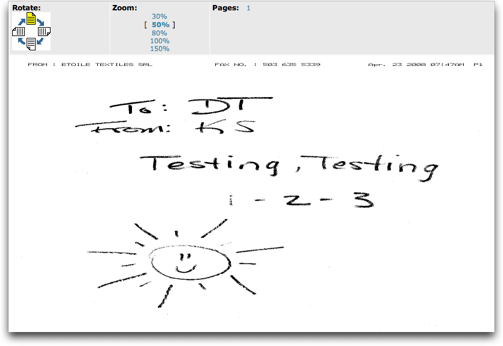 Coolness! Now, one more tip: if you want to save the fax to your computer (and you do, because they only save them for 30 days with the free accounts), simply right-click or Option-click (if you're on a Mac) and you can choose "View As Image" and print that result, or choose "Save Image As…" instead: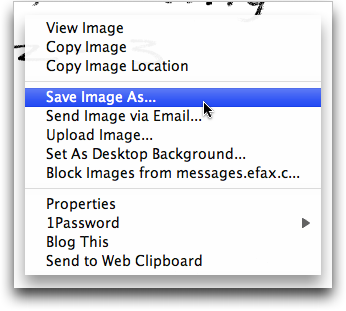 That should help you out!

To learn more about online fax options, also check out my friend Kevin Savetz's terrific guide to online fax services. Thanks also to my Twitter pals for their comments and suggestions about free fax services, and to K.S. for her demo fax.