Now that I have an iPhone, I am finding that the application icons are a complete jumble. I like things neat. Is there a way in iOS 5 to move them around so I have my favorites on the first screen, and so on?
There is indeed. In fact, there are two major ways you can rearrange the app icons on your iPhone, iPad or even iPod Touch. One of which involves working on the device itself — which is straightforward but can be a bit frustrating if you don't have nimble fingers — and the other involves doing the same thing, but within iTunes while the device is hooked up to your computer.
I'll start by showing the first method, the way that you can rearrange the app icons directly on your iPhone or iPad.
In this case, I'll be demonstrating on my iPhone 4s, but it's all the same on any iOS device, whether you want to delete or remove apps or simply rearrange things.
On my iPhone, here's a typical screen full of app icons: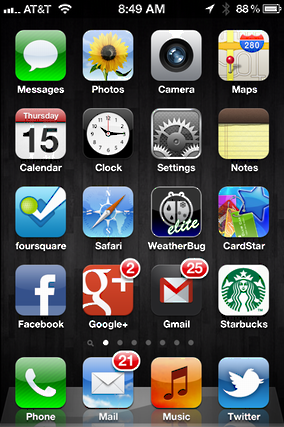 To switch to the mode where you can move apps around and/or delete them, simply tap and hold on any icon for 3-4 seconds. Suddenly it changes…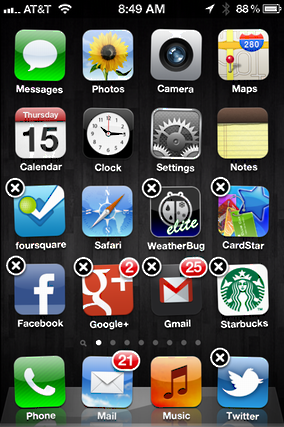 I can't show you here on this pic, but the icons are all shaking back and forth.
Notice here that there are two types of app icons shown. Some of them have a white "X" in a black circle on the top left, while others do not. The difference? The former are apps you have added to your iPhone / iPad / iPod Touch, while the latter are ones that are part of the basic system firmware. Both can be moved around, but only those with the "X" can be deleted (which you accomplish by tapping on the 'x' itself).
To move an app around while you're in this organization mode, simply tap and drag the app icon: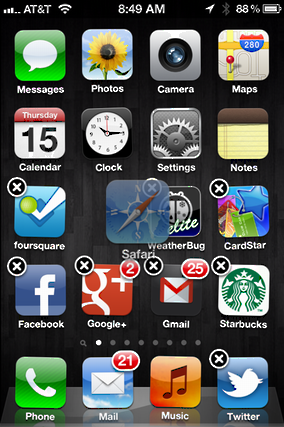 To move it onto another screen, simply drag it to the edge of the current page and after a moment or two, you'll slide to the next screen over, with the app icon still being dragged. That can take a bit of getting used to!
The second way you can rearrange app icons or even delete apps from your i-device is to plug it in to your computer and start up iTunes. Now click on the device, then click on the "Apps" tab:



… and you'll see something like this: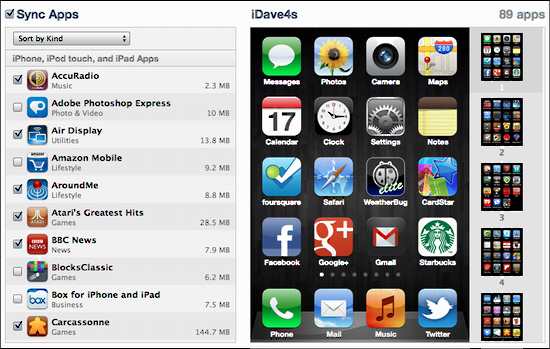 Now you can click and drag apps around, as I'm showing here by moving the Safari app icon: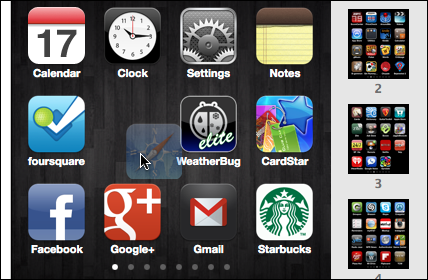 What's nice about this mode is that it's really easy to move apps from screen 1 to screen 4, say, because you can drop the app icon directly onto the thumbnails on the right column.
Either way, I hope this'll help you tame the wild iPhone or iPad!