I've been using my Apple iPhone 3G for a few weeks now and am pretty darn impressed with all it can do and with the zillions of apps in the iTunes Application Store. This afternoon, however, I saw someone else who had completely reorganized the app icons on his home screen. I want! How do I do it?
This is one of those features of the iPhone that can be hard to figure out just beacuse it's so easy. You want to see something like Settings –> Configure –> Home Screen or similar, but in fact there's no need to travel a Byzantine path to learn how to rearrange your home screen icons and even more icons from one screen to another (if you have enough app icons you can end up with two, three, or ten or more screens full of 'em. I know, I have seven screens, almost all full of games)
There's also a cool thing you can do with your icons to customize the bottom strip, the "permanent icons" that show up on every screen, that many of my friends with Apple iPhones are rather surprised to learn about.
Let's start at the beginning, however.
Here's my iPhone home screen: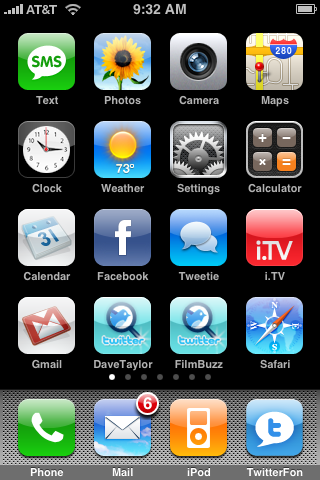 As you can see, I have already rearranged things quite a bit, moving apps I don't use (like calendar) off the home screen and replacing them with bookmarks to Google Calendar and pre-defined Twitter searches for each of my two Twitter handles (
@DaveTaylor
and
@FilmBuzz
).
Notice on the very bottom I've also replaced the default Safari icon on the permanent app icon strip with my current favorite Twitter app, TwitterFon.
To rearrange icons, tap and hold your finger on any of the app icons on the screen. After a few moments they'll all start jiggling and the ones that you've added (either bookmarks or downloaded apps) will have an "X" on their left edge: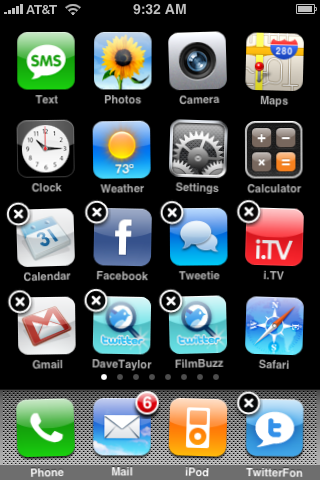 The "X" also shows you which are core iPhone operating system firmware functionality elements: those cannot be deleted, so there's no "X" button. If you do want to delete one of the added apps, simply tap in the small "X" and you'll be prompted to confirm the deletion.
To move icons around, just drag the icon you want to its new location: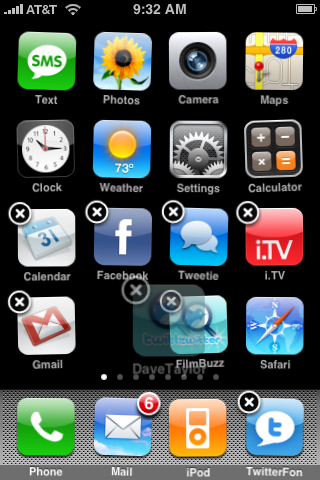 As you move along, the other app icons will neatly slide along to stay out of the way and rearrange so that the space you desire is available. If you want to drag an app icon from one screen to another, just drag it to the edge of the screen and wait a second. Suddenly you'll be moved to the second screen and
those
app icons will rearrange to make space.
Finally, your icons are rearranged as desired: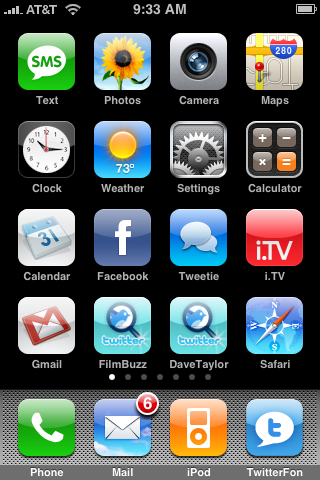 Compare this to the first screen shot to see what I've done.
And, again, if you want to change what apps are on the bottom permanent link area on your iPhone, simply drag the official app out of the space and drag the app icon you want into the new space. Easy!