I'm a member of a lot of different Meetup groups and find it an amazing site with lots of cool things to do and groups to join. Except one group, where I find that the events they plan are totally uninteresting to me and I'd like to quit. But I can't figure out how. Is it even possible to resign or leave a Meetup group, and if so, how do I do it?
I too am a fan of meetup.com and if you haven't checked it out, you're missing out on a great Web resource that can help you actually find people to hang out with face-to-face, not digitally. You remember, flesh and blood, not just the virtual world of the Internet? 🙂
Meetup has gone through a lot of different design changes in the last few years and generally things keep getting better, including lots more customization that individual groups can do to make their pages more distinctive and interesting, but you're right that there are some basic features that seem to have been left by the wayside. In fact, it's a curious thing when it's easier to work with Facebook Groups than Meetup groups.
Fortunately I did figure out the secret with some poking around and here's what you need to do to quit from that Meetup group you're not interested in. The key? The link's not on the meetup page itself. Yeah, rather non-intuitive.
So here's a typical Meetup group page:

Poke around as you like, you won't find a 'quit' or 'resign' or 'un-join' link on this page. Which really is a bit weird. It's like the mythical
Hotel California
: it's easy to check in and join a group, but really hard to check out and leave later. 🙂
You might even look along the top and say "hey, My Groups. that's where it is":
You're close, but that's not going to help you resign from the group either. In fact, the area you seek to manage your group memberships is under "Account" with the non-intuitive label "Email and Notifications":
Now you'll see a list of all the groups you're in on the site and adjacent to each one is a link letting you tweak your email and notification settings:

Did you see the link you want, though? It's "Leave this group" and even when you're in the right place, it's a bit tricky to find.
Click on it and…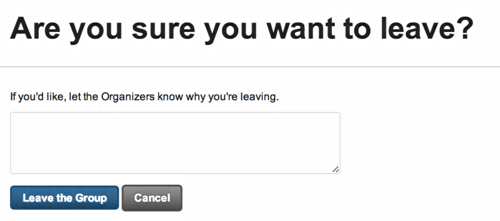 Probably you're ready to quit. If you want, this is where you can enter a message to the group leaders about your reasons for quitting, but in my experience, people join and leave groups without any explanation so feel completely free to just click "Leave the Group" without any additional effort.
Done? Done. Meetup suggests that there might be other groups you might prefer…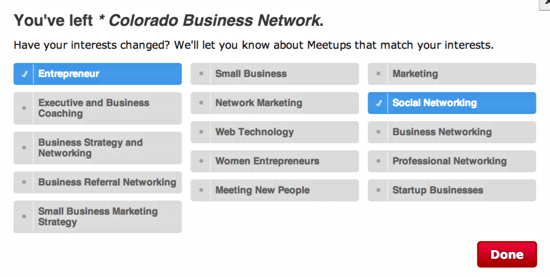 Either way, click on the red "Done" button and you'll find that you're no longer a member of the Meetup group you'd prefer to quit. Why the link is tucked away like it is makes no sense to me, but as long as you can find AskDaveTaylor I suppose you can always get the answers you seek. 🙂