This is a simple question and I used to know the answer. In an office setting, I have many people coming in to ask questions. What is the keystroke command to darken my computer screen and/or bring up my screensaver. This would prevent some from trying to see what project I'm working on–dealing with human resources, etc. I'm using Windows XP.
The easiest answer is "it depends". It depends on whether you have a computer with a true Microsoft keyboard: there's a key on it, "winkey" or the Windows key, that makes everything quite simple. If not, well, it's a bit more complicated.
If you do have the Windows key, simply press Windows+L and you'll instantly lock the computer, putting it back to the login / switch users screen. This is explained by Microsoft in a tech note and the end result after less than a second is:



Failing that, you can also get there with two keystrokes by typing Control-Alt-Delete (also known as "CTRL-ALT-DEL") to bring up the Task Manager: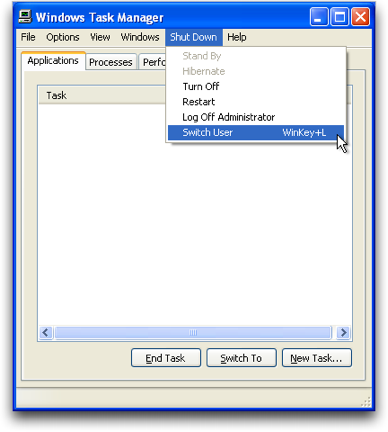 As you can see, if you choose the Shut Down menu, one of your options is "Switch User", which then switches to the first screen showed above.
There are also some shareware applications you can try if these don't work for you, most notably
Hide Window Hotkey
, from download.com. I haven't tried it, so I don't know how it works, but the description and review on the site are certainly promising!