I've been reading all of your earlier articles about how to work with Apple's iPhoto (see iPhoto help) but what I haven't seen is a piece about how to publish photos from iPhoto directly onto Facebook with vast amounts of hassles. Is that doable? If so, how? Thanks, Dave!
Glad that you've found my earlier tutorials helpful. I've been having a great time learning iPhoto and have experimented with just about every feature and capability now. Except, ironically, how to publish photos to Facebook.
Fortunately, I just recently shot a roll, uh, no, that's not right, I'm not shooting analog film any more!, let's say, a bunch of photos from an event I attended called the Startup Junkie Underground. What was interesting about it was that it was all in a low-light situation: my Nikon D90 did a great job, as it always does.
Anyway, you don't want to know about my camera gear, you want to know how to publish a set of pictures to Facebook. So let's start there. Find – and tweak – the pictures you want to publish, select them all in iPhoto, then click on the Facebook icon on the bottom of the window:


Once you do that, most likely, you'll be prompted to set up your Facebook account information:
You do want to, so click on "Set Up" and…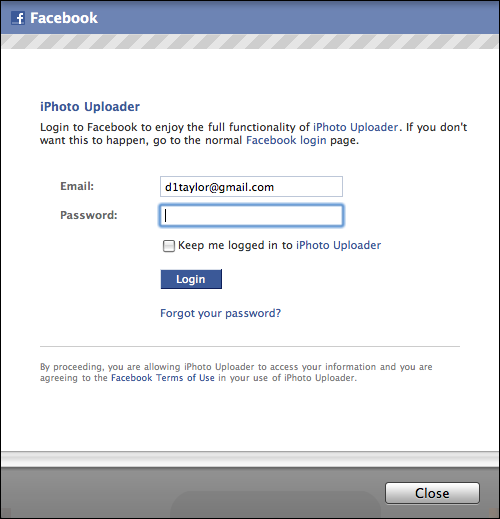 I'm making the assumption that you already have a Facebook account set up, so it's pretty easy: enter your account and password then click on "Login".
Now that you have things set up it's time to configure the specific album you'll create on Facebook with the photos you've selected. First step is to agree that, yes, you do want to publish the album:
Before you go further, however, determine who should be able to see your pictures. I'm specifying that everyone can see them, but notice that Facebook gives you some helpful options:
That's really all there is. Really. So close that window and watch the top right corner:
then…
And eventually they'll all be uploaded and on the top left of the iPhoto window you'll now see the URL of your new Facebook album:
Secret tip: click on the arrow button, and it'll open up a new window that is the newly uploaded photos in your Facebook account.
Done. And easily, too!