I have been figuring out how to work with Google Gmail and it's generally being going well, but I'm wondering if there's any way to save an entire thread of email messages in a file? Plain text would be nice, a PDF would be awesome, but I could handle HTML too, if that's my only option, Dave.
Well, you can use the "Save As…" feature of your Web browser while you're in Gmail, but that will tend to get you pretty crazy, confusing HTML files that contain the messages in the email thread you desire, and a whole lot more.
Instead, there's a snazzy way to accomplish what you desire and, heck, if you're on a Mac, I'll even show you how to save a Gmail mail thread as a nice, neat PDF document.
Start by going to the message thread you want to work with. Doesn't really matter if you have all the individual mail displayed or not.
It'll look like this: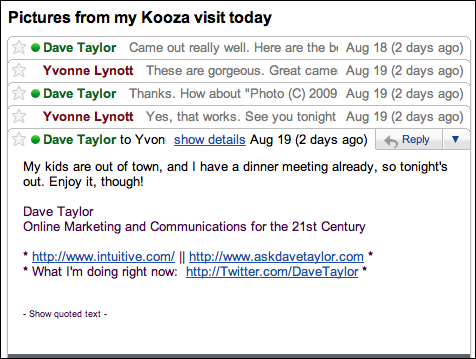 What's important is to look to the right of the messages, where you see what I'll call the "threaded"commands:



Choose "Print All" and two things happen rather quickly: first, a new window opens up: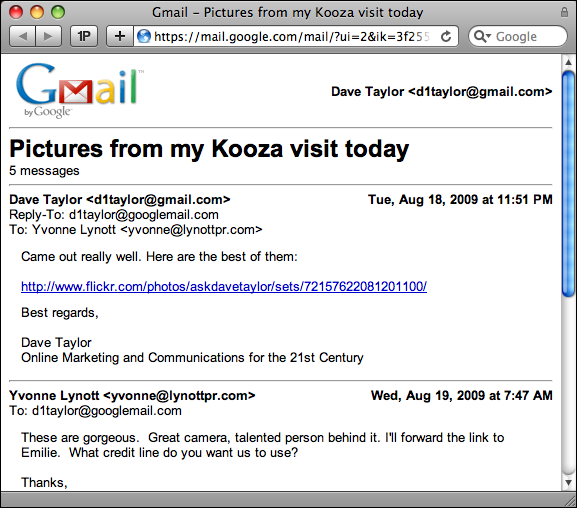 and, on top of it (at least on a Mac), a print dialog shows up: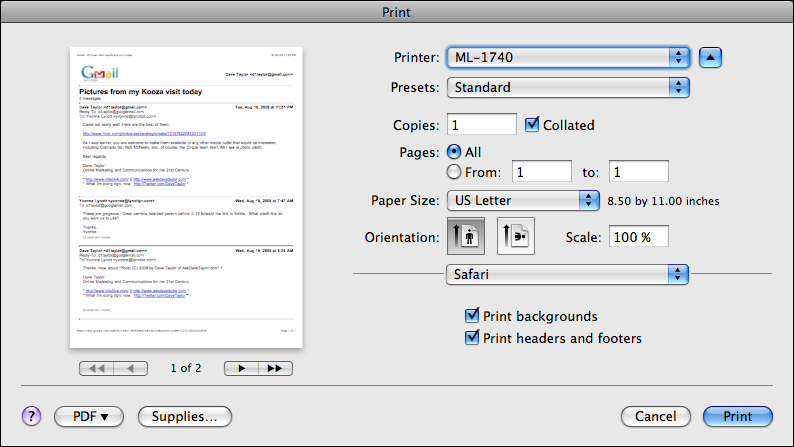 If you'd like, you can just print your message thread here, but instead, since you are on a Mac, look on the lower left corner and notice the PDF button. Click on it: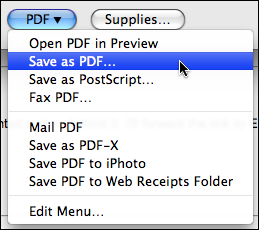 There ya go. Choose "Save As PDF…" and you've just saved your message thread as a neat, simple PDF document, suitable to forward to colleagues, archive, or whatever.
If you'd rather get the text or clean HTML, simple cancel the printout by clicking "Cancel" and then when you're looking at the threaded message display window shown earlier, simply choose "Save As…" and you can get the HTML.
Want to get the text only? That's easier than you think: just choose "Select All" from the "Edit" menu, then choose "Copy" from the same menu, open up something like TextEdit and paste the text directly.
Between these three methods, I hope one will meet your needs!