My friends are all into playing the game "FourSquare" and when I checked it out, it looks like it's only for smartphones like the iPhone. Kinda stinks because I don't have a "smart" phone, just a regular cellphone. Am I stuck in the cold, or is there some way to play FourSquare from my Mac laptop?
Until about an hour ago, i would have said that you're right, if you don't have an iPhone or similar, you were out of luck, whether you were highly mobile or not, but a slick new app just showed up that lets you play the popular geolocation game FourSquare on a MacBook, iMac, or similar.
Now why would you play a game about geographic location on a stationary computer? Well, if it is a desktop computer and you never move around, what you'll get from the new app, FoursquareX, is the ability to keep track of your friends as they check in at different places, but if you have a mobile computer like a MacBook Pro, you'll be able to check in, track other checkins, and play the game as you move around.
To get started, you need to start out by getting a Foursquare account, which you can do by going to the company's Web site at PlayFoursquare.com. If you have an iPhone, Android phone or Palm phone, grab the app too: it's pretty darn fun.
Now grab the FoursquareX application and start it up. First thing it'll want is – no surprise – your login credentials: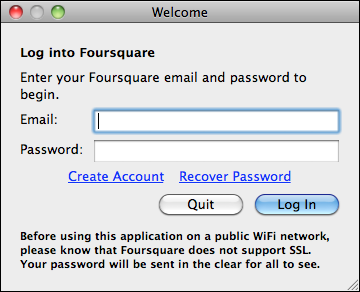 Now here's something you're probably not used to seeing in a modern Macbook application:
Now, as I understand it, the application is figuring out your location based on the identity of the wifi network, IP address, and similar. Don't know exactly, but I will say that it figured out where I am to within a few hundred yards, which is pretty darn cool considering my laptop doesn't have any sort of GPS hardware within!
So that's all well and good, but where are my friends right now, according to Foursquare?
I have to say, that is very cool. Even better, you can have accidental discovery by letting the application notify you when people check in at your current venue even if you don't know them, by tweaking the Preferences setting:
Many kudos to programmer
Eric Butler
for creating FoursquareX. I'm become an instant fan!