I'm completely obsessed with Pinterest. It's terrific. Heck, I even follow you on Pinterest [find me as d1taylor on Pinterest –ed] along with a ton of other people. I mostly use the site on my desktop system, however, and want to know how to pin photos I take directly from my iPhone 5. Possible?
Oh, it's most definitely possible from your iPhone to be a full Pinterest citizen, posting, liking, commenting and more. Like Instagram, but less teenagers. 🙂
You can't really get started without downloading the Pinterest app, however, but that's free, so it's not a big burden: Pinterest for iPhone [iTunes link].
Once that's ready to run, launch it and hook up to your account by either entering your email address and password or simply linking it with your iPhone Facebook account. If you've already configured Facebook sharing on your iPhone, it's ridiculously quick and easy, and you'll next see the latest pins from folks you follow. (I'll show you in a sec)
To demonstrate how to pin a photo I'll start with a photo of roses that I took and then made pretty by using (perhaps ironically given my comment earlier) Instagram's iPhone photo filters: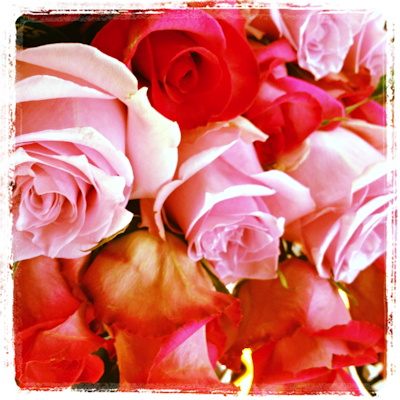 Pretty, eh?
Now launch the Pinterest app, and if you've hooked things up properly, you'll see a pretty good (if small) approximation of Pinterest on your phone screen, kinda like this:
To add your own photograph, tap on the camera icon along the bottom row. It'll turn on the camera and you'll probably be looking at your lap or shoes. I tried to have something a bit more interesting:
Yeah, a parking lot. But you don't want to see my shoes.
To get to your photo library, tap on the double-square icon on the lower right corner. It'll switch to what is likely a very familiar photo album browser view:
The photo I want to post is on my Camera Roll, so I'll tap on that to get a view of all the photos in that particular album: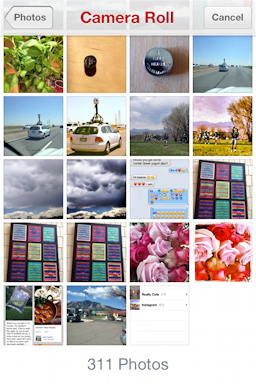 There's the rose photo, fourth row, last on the right. To select that particular image and upload it to my Pinterest board, I simply tap it, and…
Now that looks remarkably familiar if you've ever uploaded a photograph to the Web-based version of Pinterest!
Start by adding a description. Simply tap on "Describe your pin" and it'll let you enter whatever message you want. Tap on Done, then decide which board to post it to by tapping on "Choose a board". The result for me, at least, is a list of my pinboards:
This one I'll post to my
GoFatherhood Pinterest board
(which is associated with my
GoFatherhood.com
parenting blog). A tap and now I can see the first portion of the description and the selected board: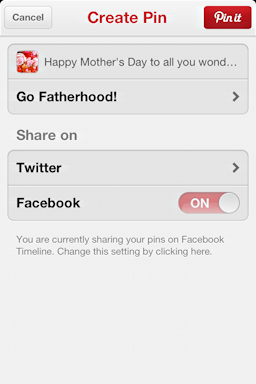 That's really all there is to the task. Tap on "PinIt" on the top right and you'll see a progress bar as the photo is uploaded:
Then eventually you'll get confirmation of success:

And if you tap and drag the screen down to refresh your Pinterest view, your new photo should appear exactly as you'd hope:
That's all there is to it. Seems like a lot of steps but once you've done this a few times, you'll find it's quick and easy.