I've been using Keynote for presentations for a long time (Keynote's part of the iWork package from Apple and only runs on Mac OS X). Recently a friend told me about "Keynote Remote", an app that runs on the Apple iPhone and lets you control the presentation, even if you're not facing your computer. Sounds cool, and I downloaded it, but can't figure out how to get the two to talk together.
Hidden in your question is information about how you make presentations, and if I may say so, sounds like you're doing a lot right. For example, more effective presentations come from walking around, rather than hiding behind the podium. If you can free yourself from manually controlling your computer, that really frees you to engage your audience. Good stuff!
Now, in terms of what you're asking, I have dabbled with Keynote Remote on my iPhone too, and found that it has one important limitation that can really bite you if you're in a major conference venue: your computer and your remote need to be on the same wifi network. If there's no wifi, or if the hotel/convention center supplies a hardwired Ethernet, you're out of luck.
The other limitation with Keynote Remote is that if you get an interrupt like a text message or alert from a program like FourSquare, it has to reconnect to your presentation, which means that it's likely that if you're like me, at some point during your presentation you'll find that your iPhone remote is dead useless. You can't put it in "airplane mode" either, because they it'll disable wifi. A surprisingly limitation in the program.
Okay, those caveats out of the way, let's see how to pair the two…
Let's start on the iPhone. Launch Keynote Remote (which you can get for $0.99 from the iTunes app store: get Keynote Remote) and you'll see this: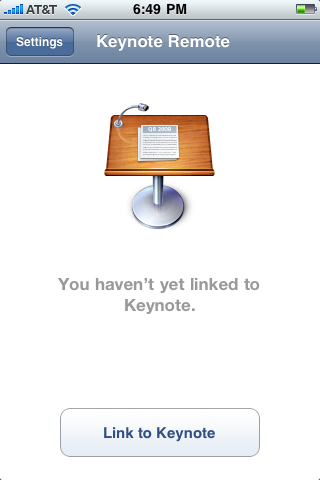 Tap on "Link to Keynote":
Now choose "New Keynote Link…" and…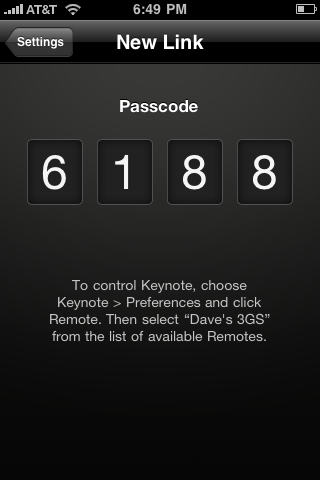 Good. Switch to Keynote on your computer and go to Preferences. You'll see this window:
Choose the "Remote" tab along the top: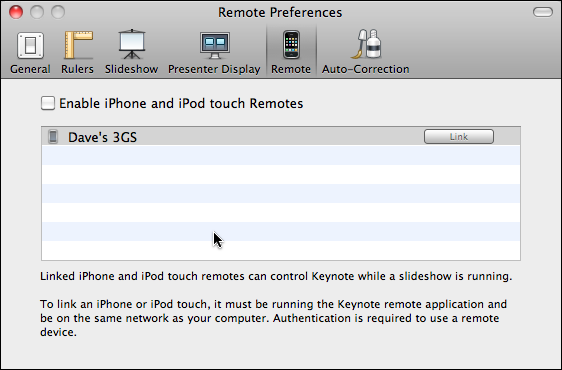 Click on the "Enable iPhone" checkbox, wait a second, and you'll be able to click on "link". Do so and …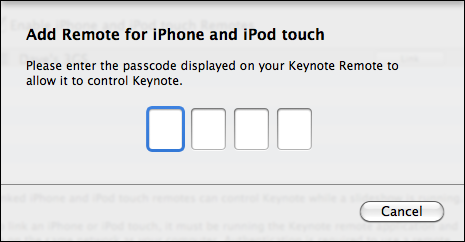 Here's where you enter the four digit number that the phone is showing you. Once you do, the phone app will see the connection and record the connection:
Before you leave this screen, I suggest that you choose "Landscape". You'll see why in a second. Once you're ready, tap on "Done" and you'll see the app actually make the live connection to your Keynote presentation on my MacBook or MacBook Pro:
If the digital Gods are with you, it'll just work. If not, it might take a bit of time and you'll see this:
Hopefully, though, you'll get here:
Notice here that you can see the current slide and next slide. To advance, just use your finger to swipe right-to-left. To back up, reverse the motion. Very, very cool. Even better, you can also get your presentation notes on the iPhone automatically if you play with the configuration a bit.
If they could just fix the "interruption kills the connection" problem, it'd be a home run…