Now that I have a new iPhone 4 – thanks to standing in line for four hours – I am eager to try some of the new features and am a bit baffled by how to get to FaceTime, the video conferencing system on the phone. Do you have an iPhone 4? Can you show me how to do it?
Do I have an iPhone 4? I was #2 in line and had one by 7:20am on June 23rd, the release day for the phone. Now, was it worth it? Well, it's definitely a cool piece of hardware and I'm a definite self-avowed Apple fanboy, but still, it is just a cellphone, smart though it may be.
The iPhone 4 does have some very interesting new features and capabilities, however, including its amazing high-pixel-density screen called the "retina display". More relevant to your question, the iPhone 4 is the first that has both a front and rear facing camera: all previous iPhones were only rear-facing.
Why? Because then you can be looking at the phone screen and have the camera capturing you too.
Turns out that the FaceTime feature is woven pretty subtly into the existing phone UI. For example, if you look at the contact information for a friend, you'll see the usual phone numbers and other information:


Scroll down, however, and look at what's now at the bottom of the screen:


Tap on "FaceTime" and if you have more than one number for the person you'll get to pick which you want to try:


Notice here that it's the mobile number that gets the little camera icon, while the Google Voice number (that's a label I created, btw) doesn't have that.
Tap on it and if they're not available for FaceTime…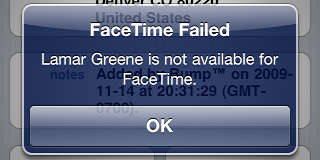 If they are available, however, you'll suddenly see yourself from rather an unflattering up-the-nose angle: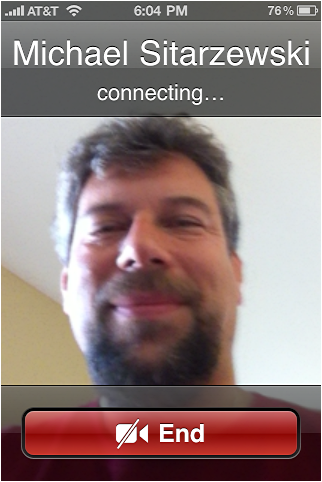 Alternatively, if your friend calls you requesting a FaceTime connection (you both need iPhone 4s and both need to be on a wifi network), you'll see something like this: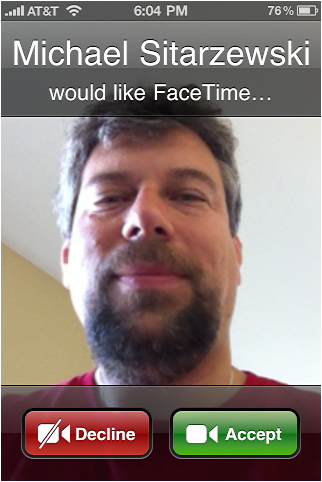 Either way, accept the call and suddenly you're looking at your friend and get a little picture-in-picture view of yourself on the top right:


Of special note is the camera icon with the curved arrows: turns out that while you're in a FaceTime call you can switch to having your rear-facing camera active (or the other party can). In this shot, you can see my friend Michael has done just that, so I can see the view out his window: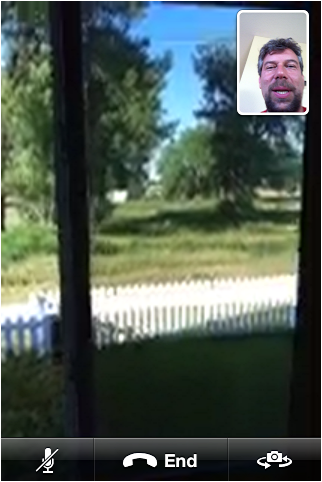 When you're done, just end the call as you would any phone call.
Oh, and one more cool touch: check what shows up in your Recent Calls list:


As I said at the beginning, FaceTime really integrates tightly with the rest of the phone system, very well done.