I wanted to implement a similar thing to what you show on add a custom eBay search box to your site on my eBay store site, but I'd rather have a neat little box in a position of my choice, instead of using the ugly default eBay side menu. Is there a way to customise the search form so it only searches within my eBay store? Thanks in advance for any help you can offer!
Great question, and I have done a lot of digging and reverse engineering of the eBay search forms. The reality is that this is perhaps the most complicated form I've seen on eBay because they don't do anything simple like have the merchant shown by name or even a merchant ID, but instead have a cryptic "sasel" value that does uniquely identify eBay merchants, but is darn hard to figure out.
Here's what I did…
I started by going onto the eBay site and doing a search for something, anything. I picked "casablanca". Then I clicked on the "Stores" tab so that I was looking at matches from eBay Store merchants.
Now I clicked on one of the matching entries, taking me to a merchant called "signedpictures". On any eBay listing from an eBay Store merchant, there's:

Click on the "Visit seller's Store" link and you'll now see all of their current listings.
On that merchant page, there's a search form: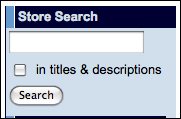 What we want to do here is do a search, any search. Now, from the search results page, search again. (I warned you this was pretty darn complex!). For example, when I searched – twice – for "photo" on "signedpictures" account, the resultant address of the second search results page is:
http://search.stores.ebay.co/signedpictures_photo_W0QQfcdZ2QQfciZQ2d1QQfclZ4QQfromZR10Q
    QfsnZsignedpicturesQQfsooZ1QQfsopZ1QQsaselZ33440996QQsofpZ0
Ugly and complex as heck, right? But the magic numeric value we seek is embedded in that URL. Here's just the last portion of it with the sasel value (which appears to only be digits) highlighted:
http://search.stores.ebay.com/ … 1QQsaselZ33440996QQsofpZ0
The "sasel" number? In this case, it's 33440996.
Now, armed with that, here's the form (that I figured out after much experimentation!)
<form name="search" method="get"
action="http://search.stores.ebay.com/search/search.dll?GetResult&">
<input type="text" name="query" maxlength="300″ >
<input type="hidden" name="fcd" value="2″>
<input type="hidden" name="from" value="R10″>
<input type="hidden" name="sasel" value="
33440996
">
<input name="submit" type="submit" value="Search">
<br />
<input type="checkbox" name="srchdesc" value="y">search titles & descriptions
</form>
Complicated, eh? You can see in the middle the spot where I've added the proper "sasel" value for this to search that eBay merchant store. I highlighted it in red.
This is a rudimentary, fairly unattractive form, but it works, and making it pretty is the easy part.
I hope this is clear and helps you figure out how to identify your own store's "sasel" number and create a form that you can add anywhere on the Web to let people easily search your own merchant store.
And, eBay, how come this is so darn complicated anyway?