I'm just starting to get up to speed with Google's slick Google Voice application and have heard that you can use it to make free or at least pretty darn cheap international calls. I'm psyched! My brother is in Sweden and we rarely talk because of the cost of long distance. How can I gain access to the cheap international calling with Google Voice?
One common complaint about cell phones is their above market rates for international long distance calls. Most people try to avoid making international calls from their cell phones, but as the land line is disappearing – our choices are reducing.
The new service from Google, called Google Voice now offers a clever way to make international calls at very low rates. To do so means you need to have a Google Voice account.
Google Voice Accounts come with a $1 credit allowing you to try the international services (US domestic calls are free). You can initiate outbound calls from either a phone (including your cell phone) or from the web portal which calls you on your selected phone. Before you purchase more credit, you may want to check the international long distance rates.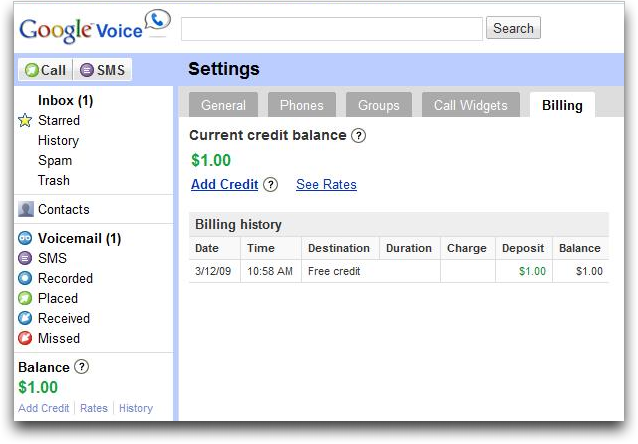 To do so, click on the "history" link at the bottom of the left side navigation. This opens up a "Settings" screen, select the "Billing" tab and click on "See rates":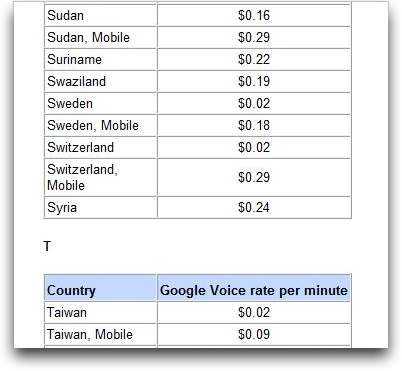 Here, for example, you can see that calls to Swedish Landlines are .02/min. So that $1 credit that comes with the account is good for 50 minutes of conversation to Sweden.
On the Left side Navigation box, select the bottom link "Add Credit". This takes you to a shopping cart, where you can purchase blocks of $10 credits to a major credit card.
To make an international call, press the green Call Button on the top left of the main screen. Enter the number you wish to dial (enter a +followed by the country code and number). Below that enter the phone number here you wish to call from and press "connect". Google Voice will first call you, and then place the international call for you. You can also do this from your cell phone by calling your own Google Voice number (Google recognizes when you call from your own phone) and follow the prompts to place the International call.
---
This blog entry was written by contributing editor Dave Michels, Telecommunications Protagonist at
Pin Drop Soup.com
and Principal of Buffalo Communications, Denver.