I keep hearing from friends and family that I need to join Facebook, and I suppose I should sign up so that I can keep up with everyone, fellow alumni from my college, my kids, and so on. But I hate to give up my privacy and don't want to support Mark after seeing what an unpleasant young man he was in that movie The Social Network. If I have to sign up for a Facebook account, can I at least keep things private?
With over 500 million users, Facebook has definitely emerged as one of the biggest and most poplar social networks on the Internet, so it doesn't surprise me that you're finding that your family, friends and schoolmates are there. At last count, my daughter, my sister and my Dad are all on Facebook too, not to mention about 90% of my friends.
I've also seen The Social Network and you're right, Facebook founder Mark Zuckerberg, as portrayed by actor Jesse Eisenberg, was an unpleasant, selfish and incredibly egotistical young man. But that was a film and whatever Zuckerberg is like in person, he's definitely not going to be anything like the dramatic persona portrayed in this powerful movie. Repeat after me: "It's just a movie". 🙂
Now, on to Facebook. Let me show you how to sign up for a Facebook account and we'll talk a bit about privacy and what information you should or shouldn't share as we go.
Deep breath. It's going to be fun.
Ready? 🙂
Go to the Facebook home page by clicking here: facebook.com. You'll see this: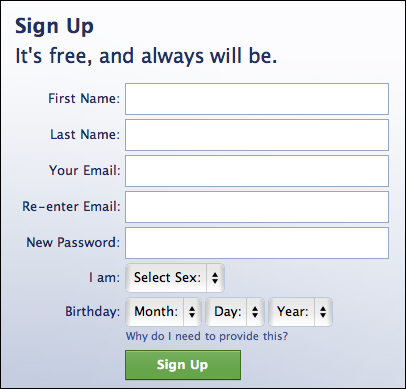 Fill in the information it requests, though you can fudge your birthday information if you want (though don't forget what you specify just in case you ever need to recover your password by entering your birthday again). Why would Facebook want it? Here's how they answer that very question:
Once you've filled in that information and made sure you typed in your email address correctly, click on "Sign Up" and you'll go to something called a "captcha", a system that is designed to prevent robots and computer programs (usually from spammers or hackers) from signing up:
You wouldn't be the first to complain that they're a pain in the neck to deal with and perhaps might even enter the code incorrectly the first time through. This one, for example, is correctly answered
G3YdY
. If you get one that's hard to figure out, by the way, note that you can request another, more legible one, by clicking on "try another text" just below the graphic.
Once you've clicked "Sign Up" again, you're done!
Well, not quite. Let's continue through the basic steps: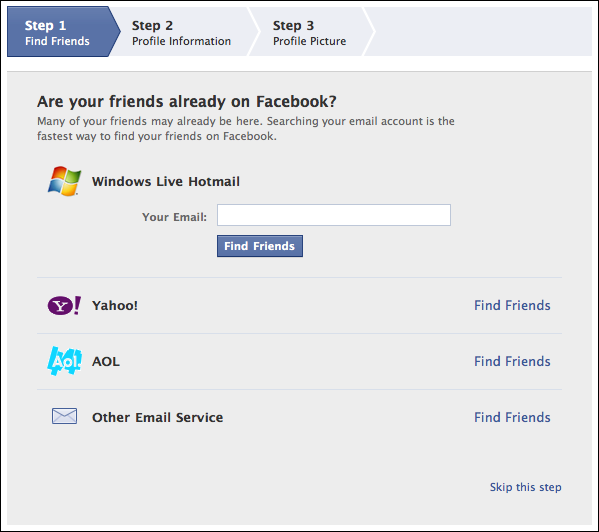 If you're on one of these popular services and are willing to let Facebook scan your address book on Microsoft Live, Yahoo Mail, or similar, enter your address (and most commonly your password) here. If you'd rather not – and I don't generally like one service to scan my account information on another service – just click on "Skip this step"…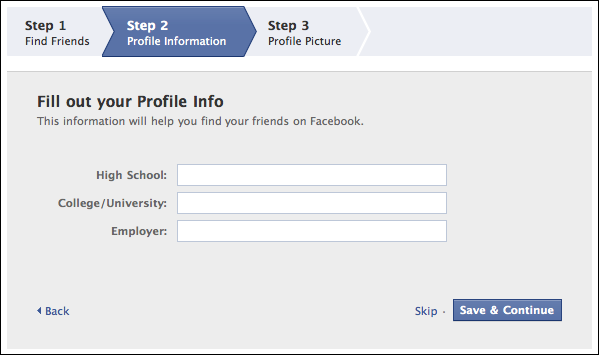 Again, if you'd rather not share your college, high school and employment information you can skip all of these, but I will say that it's a good idea to have at least some minimal information in your profile so that other people who seek you can be sure that the profile they've found is you, not someone else with the same name.
Next step, whether or not you enter this information, looks like this: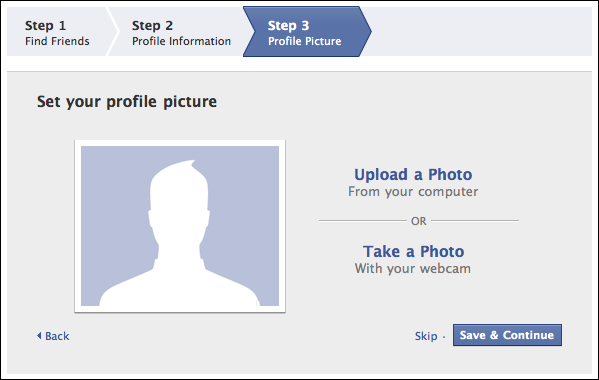 Here's another spot where you should think carefully about whether or not to include a photograph. It can be an old one or a partial face, or you in a scenic location, but again it's a smart idea to have something so others will be assured it's you when they check.
You can also have a bit of creative fun here too. Check out some of these profile photos from various of my friends on Facebook:
Finally, when you've uploaded a photo of some sort, you're basically done, though if you didn't fill in anything your profile looks rather bare: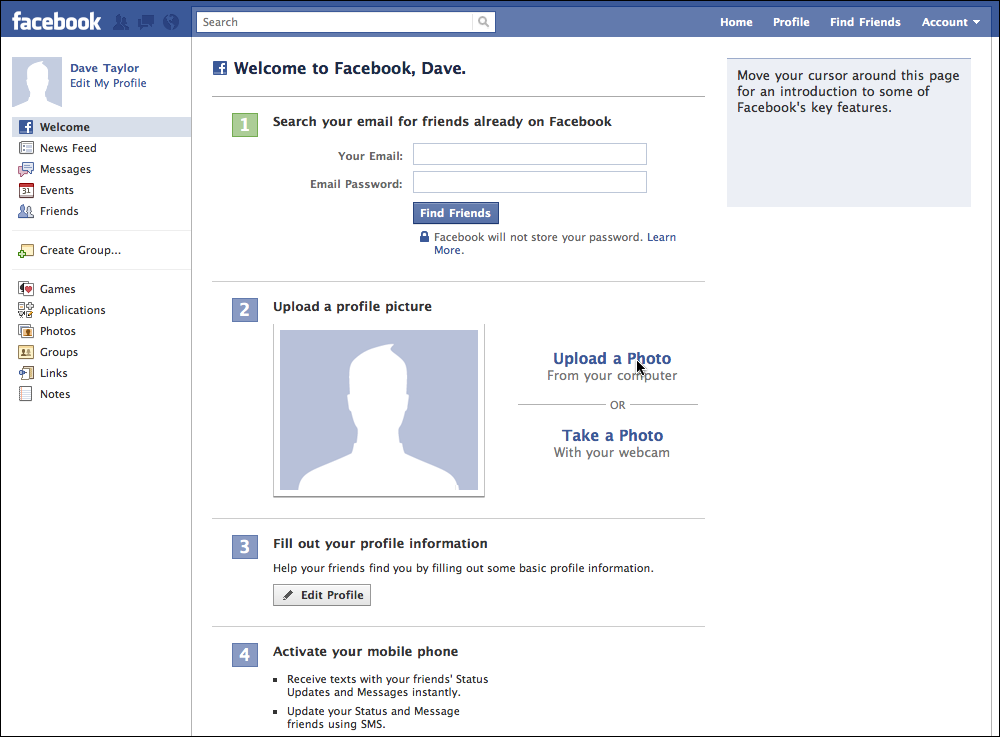 While we're signing up for Facebook, you should also note that along there top there should be a message for you:

Might as well confirm your email address. You only need do it once. In my email inbox, sure enough, I had a note from Facebook:
Not hard to do at all, just a click to confirm and your profile is set up properly:

Now you're on Facebook. Congrats! I encourage you to click on Account –> Privacy on the top right of the page to ensure that whatever information you do share that it's only people that you're already friends with who can see it all.