I'm so psyched about the multi person video chat capabilities in Google Plus (thanks for the invite, btw, Dave!) and want to join one. How do I join a video chat?
I'm with you, the Google Plus Hangouts are pretty slick and well implemented. A fun way to have a conversation with more than just a single friend, and the business uses are definitely significant too (though a screen sharing or similar capability is a must-add for it to be really useful).
Creating a Hangout is pretty easy but sometimes it's more interesting to join someone else's Google Plus Hangout. The trick is, you need to find the note about the Hangout in your G+ stream.
Once you do, it's about as easy as it could be…
I'll demonstrate by jumping into a recent Hangout hosted by the inimitable Steve Rubel:
In my G+ Stream, here's what I saw:


As I said, it's pretty easy to take the next step. Click on "Join this hangout" and…


Yeah, I look like a refuge from the great zombie uprising, but that's another story! You can see that Steve is in my Circle, but everyone else in the Hangout is unknown to me.
More importantly, notice the buttons along the bottom: Mute Video, Mute Mic, Settings and Exit. We'll come back to those.
For now, click on "Hang out" and we'll see what happens:


Aww snap! Looks like Steve's Hangout is too darn popular (remember, there's a limit of 10 people total). I'll wait a minute or two, then click on "Try again" and, finally, I'm in!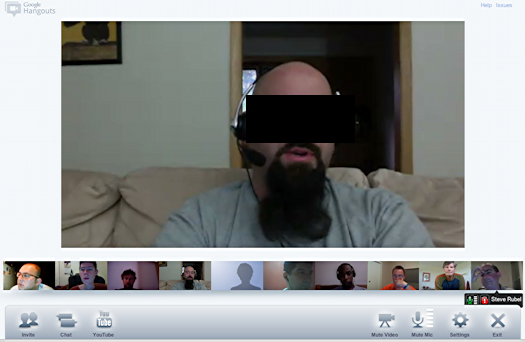 As you can see, the person talking gets the big window and everyone else shows up along the filmstrip along the bottom. Steve? He's rightmost.
At this point there are a variety of different things I can do but the most important is to realize that everyone else can see me and hear whatever's going on around me. So I'll jump back out to give someone else a chance to actually participate. I do this by clicking on the big "X" exit button on the lower right.
There ya go, that's how you can join a Hangout with your friends or colleagues. Well worth it, and very cool stuff…