I want to start getting into the habit of inviting people I meet at conferences to join me on Facebook. Is there an easy way to do that?
That's a superb strategy. Let me say that first off. In fact, my approach to meeting people is a slight variation on that: I use LinkedIn to memorialize the connections I make at conferences, workshops and seminars. My logic is two-fold. First, it helps me remember who I met and gains me some level of access to their network of friends and colleagues, and second, it also demonstrates to them that I walk my talk: that I really do put a lot of effort into social networking. As my Mum would say, the proof's in the pudding, though I'm not really entirely sure what that means!
Like most of the big social networks now, Facebook makes it pretty darn easy to invite someone to join you or connect to you or link to you (pick your favorite metaphor).
Log in to your Facebook account, then choose Invite Friends from the Friends menu on the top of the page: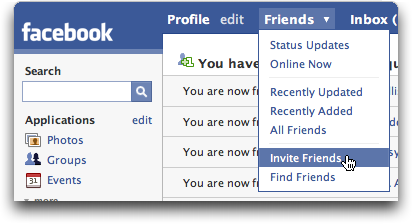 At this point, you get to a very simple and straightforward friend invitation entry box: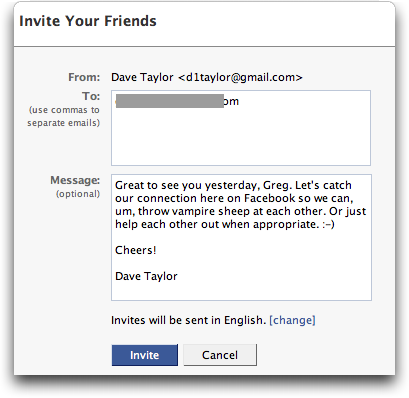 As you can see, I filled in a personal message to Greg Cohn, a colleague at Yahoo with whom I hope to soon have a connection on Facebook. You don't have to put in a personal message but I can't emphasize enough that
invitations with personal messages are far more likely to be successful
. I think this is even doubly-so after a major conference like
Blogworld Expo
or similar since they might be inundated with invitations. If they don't know who you are, they might just axe your invite.
Click "Invite" when you're ready and you'll get a quick confirmation:

As you can see – and as is no surprise at all – Greg is already on Facebook. That's okay, the invitation magically turns into a "let's connect" rather than a "you should join Facebook to connect" invitation.
That's all there is to it.
Want to learn more about Facebook? I have lots of
Facebook Help
here, and you can also
find me on Facebook too
(and practice sending invitations by sending me a personalized invite if you'd like.
That's not all! I also have a
Facebook Fan Page
that I invite you to join too!